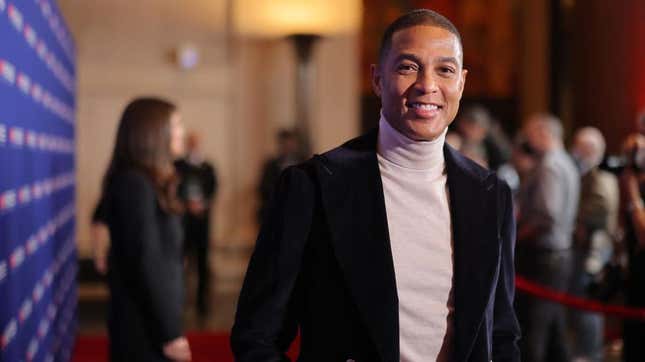 Updated 06/09/2023 at 4:25 p.m. ET:

It looks like Don Lemon may have gotten the last laugh.

Weeks after the longtime CNN host was fired from the popular news channel, his boss, CEO Chris Licht, met the same fate.
Kerry Washington Talks Shonda Rhimes, Scandal, & Motherhood | Securing the Bag: Part 2
On Wednesday, Warner Bros Discovery announced that Licht would be out as CEO after only working in the position for a year. This comes days after a damning profile from The Atlantic, in which the publication spoke to hundreds of CNN employees, who questioned Licht's ability to lead the company.
But in a new report from TMZ, it appears that Lemon and his team are open to the possibility of returning to CNN after the firing of his former boss, who he did not always get along with.
It shouldn't be too surprising, considering Lemon was extremely shocked himself when he got the news that he'd no longer work at the news organization.
The day he got fired, he tweeted out a lengthy post that read, "At no time was I ever given any indication that I would not be able to continue to do the work I have loved at the network."
But, there are also some other options out in the media world other than just returning to his previous position.
On Thursday, Twitter CEO asked Lemon and fellow TV host Rachel Maddow to join Tucker Carlson and have their own show on Twitter.
In a tweet, Musk wrote, "It'd be great to have @maddow, @donlemon & others on the left put their shows on this platform. No exclusivity or legal docs required! You will receive our full support. The digital town square is for all."
If I was Lemon, I'm not sure if I'd want to go to CNN or Twitter.
The last few months of his tenure at CNN were filled with controversy. He was accused of misogynistic behavior and was also taken off of CNN This Morning and sent to sensitivity training after he was criticized for comments on Republican presidential candidate Nikki Haley's age.
Having a show on Twitter could be intriguing, but is Lemon confident enough in his brand and content to have a show on Twitter exclusively? Not to mention that under Musk's watch, Twitter has been a breeding ground for racist, homophobic and antisemitic language.
Does Lemon want to be associated with that? I doubt it.