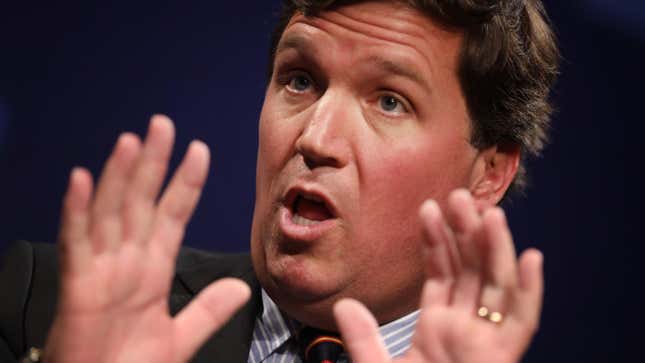 Though Tucker Carlson was fired from Fox News last month, the fear-mongering host posted a video Tuesday sharing that his next endeavor will be starting up soon. On Twitter, Carlson stated that he will soon start "a new version" of his infamous television show on the social media app.
Tucker Carlson Might Be Gone But Fox News Remains a Cesspool of Hate
"We will be bringing some other things, too, which we'll tell you about," he said, adding. "But for now, we're just grateful to be here." Days after he was let go from Fox, he posted a video to Twitter which received more than 80 million views. Elon Musk, who owns the site, responded Tuesday that he welcomes "critique" on Twitter but said he hasn't confirmed a deal with Carlson.
"On this platform, unlike the one-way street of broadcast, people are able to interact, critique and refute whatever he or anyone may say. And, of course, anything misleading will get @CommunityNotes. I also want to be clear that we have not signed a deal of any kind whatsoever," Musk wrote.
The CEO continued. "Tucker is subject to the same rules & rewards of all content creators. Rewards means subscriptions and advertising revenue share (still working on software needed for latter), which is a function of how many people subscribe and the advertising views associated with his content. I hope that many others, particularly from the left, also choose to be content creators on this platform."
On Tuesday, Axios reported that Carlson's lawyer, Bryan Freedman, sent a letter to Fox alleging the company of breach of contract and fraud. Freedman also insisted that the noncompete clause is null and void. Before he was canned by Fox, Carlson interviewed Musk on his show and was informed by Twitter tech staff how to make money from the site.
Black folks have spoken out about the amount of bigotry, hate and misinformation that has already occurred under Musk's leadership, and this time is no different. This has encouraged prominent voices to exit the app, as well as NPR shuttering all of its Twitter accounts.
Since Musk acquired Twitter last year, he has faced scrutiny for trying to monetize the site and for allowing hate speech to proliferate since his takeover. As journalist Ahmed Baba explained: "As Elon Musk spends this week pushing baseless conspiracy theories about how the white supremacist extremist attack is Texas was a "psyop," Tucker Carlson—the chief peddler of white supremacist Great Replacement theory—announces he's bringing a new version of his show to Twitter."
If Tucker Carlson's show does happen on Twitter, users seem ready, willing and able to challenge his vile rhetoric. However, it is not on Black folks to constantly combat racism—something that Carlson will continue to monetize. Seeing as Musk offered a show to Don Lemon on Twitter after Carlson shared his news, it's clear that the app has the chance to transform into a video giant which is something Musk, quite frankly, isn't ready for.