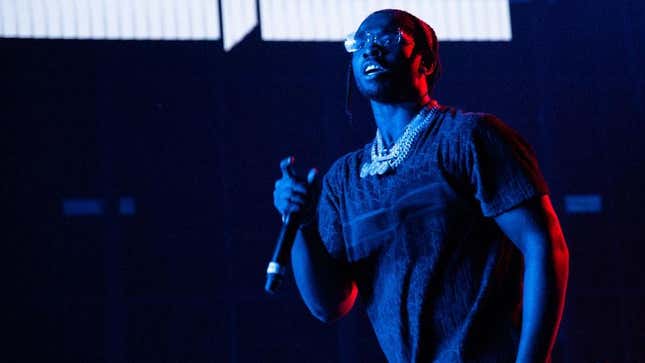 Years after the shocking murder of beloved rapper Pop Smoke, recent actions are still being connected to his death.
Jeezy Talks New Book, Life Lessons, His Love For Taylor Swift & More
Here's the story. A week ago on July 31, a barrel containing the body of Javonnta Murphy washed ashore at a Malibu beach. Javonnta, who is an LA rapper who goes by the name of Sirtanky, is the brother of Jaquan Murphy.
This is important because Jaquan is one of the many suspects who was arrested in the murder of Pop Smoke two years ago.
Now, local police are investigating the murder of Javonnta and seeing if has any connection to the murder of the once up-and-coming New York rapper, according to TMZ.
The LA County Sheriff's Department is investigating a myriad of possibilities, including one that the murder of Javonnta was done to avenge the death of Pop Smoke. But they still have no evidence to prove that and are still looking into other scenarios.
Jaquan, 24, is currently facing charges of attempted murder. He is currently on trial in a Los Angeles court for a murder unrelated to the death of Smoke.
Four other people were arrested in connection to the murder of the "DIOR" rapper in July 2020. Along with Jaquan, Corey Walker and Keandre Rodgers were charged with murder and are eligible for the death penalty. Two other suspects who are juveniles were charged with one count of murder and one count of robbery.
In April, one of the juvenile suspects, who is now 20 years old, pleaded guilty in Juvenile court. He admitted to entering the Hollywood Hills mansion as a teen in February 2020 in an attempt to rob the late MC, who was fatally shot during a struggle with the assailants.
He was sentenced to four years and two months in the Secure Youth Treatment Facility.