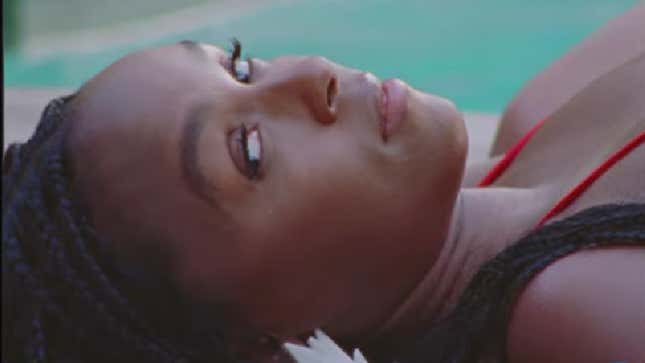 After five long years, new music from Janelle Monáe is finally about to bless our ears soon: The Age of Pleasure.
Chuck D's Fight The Power: How Hip Hop Changed The World Is Our TV Pick
The announcement was made by the "I Like That" singer on Thursday and came not only as a pleasant surprise for fans who have been waiting for a follow-up to her acclaimed 2018 album Dirty Computer, but it also came alongside the new song and music video, "Lipstick Lover."
Kicking off with a sweet kiss between Janelle and a woman, the video is mostly filled with beautiful Black women in swimsuits and a sprinkle of Black men in pools, eating fruits and ice cream, being sexually suggestive (and sometimes explicit) and more. All of which fed right into the the overarching theme of pleasure, which is something the "Yoga" artist looks to be exploring more of in her next era of music. In addition to the sensual nature of the video, the song also gives a sort of care-free, easy vibe that sets a good tone and fun expectation for a highly anticipated, sexy summer.
This new music comes nearly three months after her earlier single "Float" was released back in February. That song also gives the same sort of carefree, stress-free, vibe but with lyrics that espouse confidence, gratitude and the exact type of energy that reminds of how much power we all truly possess. In essence, both "Float" and "Lipstick Lover" are about harnessing an innate self-assurance to be who we really are, no matter what that looks like or what it looks like to others.
The Age of Pleasure is set to drop June 9, peep the official tracklist below and to check out the NSFW video for "Lipstick Lover" head to Janelle Monáe's official YouTube page.
The Age of Pleasure Official Track list, per The Fader:
1. "Float" feat. Seun Kuti and Egypt 80
2. "Champagne Shit"
3. "Black Sugar Beach"
4. "Phenomenal"
5. "Haute"
6. "Oh La La"
7. "Lipstick Lover"
8. "The Rush"
9. "The French 75"
10. "Water Slide"
11. "Know Better"
12. "Paid in Pleasure"
13. "Only Have Eyes 42"
14. "A Dry Red"