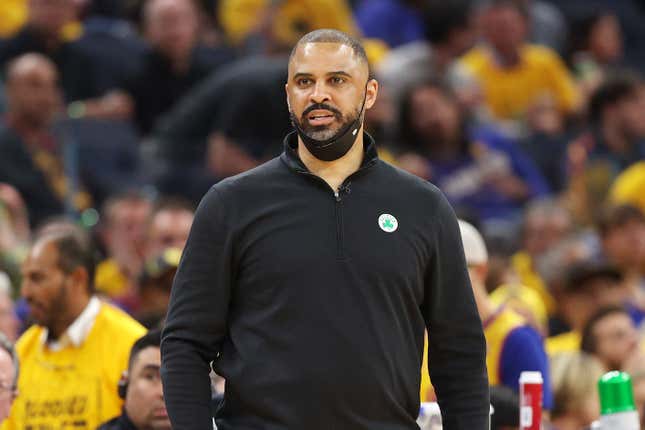 A former NBA head coach is ready to return to the league and start over from the bottom. According to ESPN's Adrian Wojnarowski, Ime Udoka is signing on as the new coach of the Houston Rockets. In September 2022, one season after leading the Boston Celtics to the NBA Finals, Udoka was suspended, then ultimately fired by the team for engaging in a "consensual intimate relationship" with a woman who works within the Celtics organization.

American Ninja Warrior: Season 15 Is Our TV Pick of The Week
Normally, a sports story like this wouldn't cross into mainstream media. But at the time that news broke about his suspension and the reasons behind it, Udoka was engaged to actress Nia Long. This meant the scandal made headlines in entertainment magazines and websites. Hopefully, Udoka agreeing to a deal with Houston will redirect attention to the sports section and let everyone move on.
ESPN reports that the Rockets conducted an investigation into Udoka "with the league office and with the Celtics, among others, before making the job offer." I completely understand the need for anonymity in situations like this, however, I'm also wondering how extensive the investigation was. Who did the Rockets speak to? How deep did the team dig before actually making the job offer? When someone leaves their last job because of an "improper workplace relationship," their next employer needs to do their due diligence so its employees feel protected.
Back in November 2022, it looked like Udoka was going to become the new head coach of the Brooklyn Nets, but the team decided to promote interim head coach Jacques Vaughn to its official leader. Let's be honest: He absolutely dodged a bullet with Brooklyn. With Kyrie Irving and Kevin Durant eventually being traded, they were a hot mess this season. However, things won't necessarily be any easier in Houston as the Rockets have been terrible for a while now. The team was 22-60 last season, with only the Detroit Pistons notching a worse record. 
I know all of that sounds bad, but the good news is that the only place to go is up. Houston has a young team and could potentially add dynamic new players in the NBA Draft. The Rockets will be looking to secure a top spot in the Draft Lottery, with everyone vying for a shot at international star Victor Wembanyama. No one is expecting Udoka to immediately turn things around in Houston, but considering what he did in Boston, fans will at least want to get out of the NBA basement.