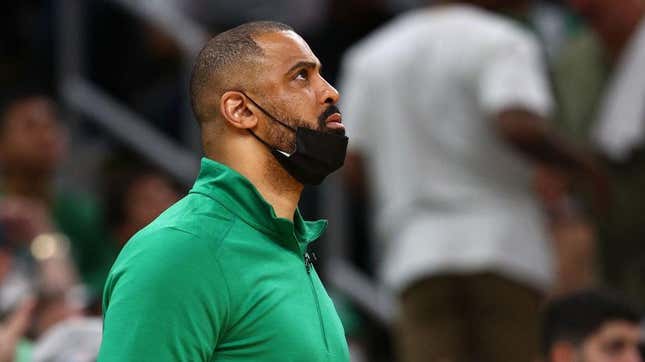 Ime Udoka, who led the Boston Celtics to the 2022 NBA Finals, is one of the premier coaches in the NBA. Udoka was leading the way in a surge of new Black head coaches working for NBA franchises, and with training camp less than a week away, he was looking to have another successful season.
But, it looks like that will now be on the back burner as Udoka is facing disciplinary action from the Celtics because of his role in a "consensual intimate relationship" with a woman who is a member of the Celtics organization. This is considered a violation of the organization's guidelines and as a result, Udoka is facing a lengthy suspension from the team, according to ESPN.
While Udoka's job is not in jeopardy, he is likely going to be suspended for the entire 2022-2023 NBA season, according to ESPN.
Not only is this a problem because the Boston Celtics will potentially not have their coach for the rest of the upcoming season, but last time we checked, Udoka is the fiancé of actress Nia Long.
That's right, the Nia Long from Friday, Love Jones, Are We There Yet?, Boyz N The Hood, The Best Man and a plethora of other classic movies.
As you would imagine, Black Twitter was shocked by the news of Udoka's team violation and even more appalled that he would have an intimate relationship with anyone other than Nia Long.
Those are just a fraction of the tweets Black Twitter has let off and many more are soon to come as Udoka's suspension is announced and more details about his "violation" are revealed.

Some on social media have already speculated that Celtics Vice-President of Player Development and Organizational Growth Allison Feaster is the woman in question. But, ESPN reports that she is not the one involved in this relationship.
In his first season as head coach of the Boston Celtics, Udoka led a remarkable mid-season turnaround as he saw his squad go from under .500, all the way to the NBA Finals. While his team eventually lost to Stephen Curry and the Golden State Warriors, he was seen as having a wildly successful first season.
Now with this news, it's definitely a step in the wrong direction for himself and the Celtics.