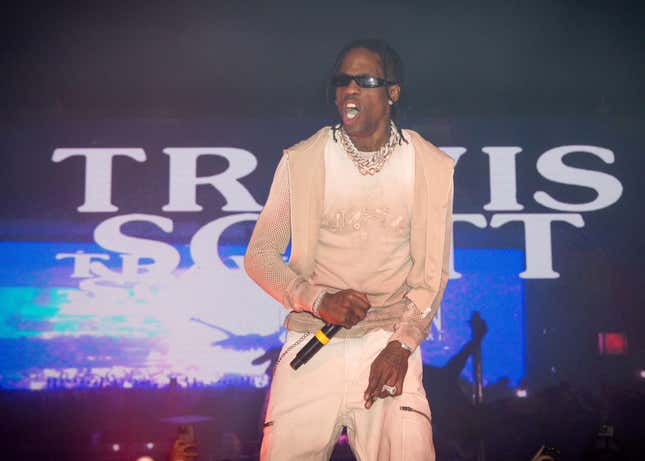 Travis Scott and his recently released album UTOPIA may be all the rage with certain hip-hop fans, but it's rave-inducing aspects and antics have unfortunately caused a ruckus in Rome.
According to Euronews, Scott brought out nearly 60,000 fans to see him kick off his album debut at Rome's ancient and iconic Circus Maximus. (The concert was originally supposed to take place at the Pyramids of Giza in Egypt but those plans fell through due to Scott and the country's differing "societal values and traditions.")
Unfortunately for him, things took a turn for the worse when someone was allegedly pepper-sprayed which then set off others around them and erupted into chaos. A 14-year-old boy was also allegedly injured and subsequently hospitalized after falling from a four-meter drop while trying to sneak past security to get into the show. At least 60 people ended up needing medical treatment after it was all said and done.
If this all sounds a wee bit familiar, then you're probably recalling the tragic events that took place at Scott's Astroworld concert back in 2021, which resulted in 300 people injured and 10 deaths.
And as if this unfortunate circumstance wasn't enough, as previously reported by The Root, Scott brought out Ye—the highly controversial artist formerly known as Kanye West—for a surprise performance out in Italy. This marked Ye's first performance since 2022, a year that mostly saw the Chicago native rapper go on an anti-Semitic tirade on social media. Still, Scott saw fit to include the Yeezus actor, proclaiming that: "there is no UTOPIA without Kanye West. There is no Travis Scott without Kanye West. There is no Rome without Kanye West." (Hmmm, that last part is highly debatable, but I digress.)
Look, I don't know who on Scott's team needs to hear this, but he may want to take a step back from concerts if they're going to keep causing people to get hurt. I understand you can't control your fans and you want to connect with them, but these are real people who are suffering real hurt as a result of these gatherings. It would be best to put a pause on things until the root cause of all these issues gets sorted out.