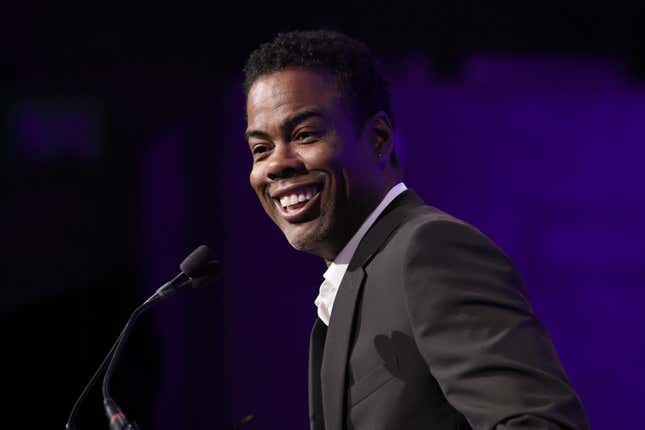 Netflix is going all out for Chris Rock's upcoming stand-up special Selective Outrage, with the streaming network now planning to air live pre and post show specials before the big event. According to The Hollywood Reporter, streaming live at 9:30 p.m. ET/6:30 p.m. PT on March 4, The Show Before the Show, hosted by The Daily Show's Ronny Chieng, takes place from The Comedy Store in Los Angeles, Calif. and features messages from Cedric the Entertainer; Ice-T; Wanda Sykes; and Rock's longtime close friend Jerry Seinfeld. It will also include appearances from Arsenio Hall; Deon Cole; and Leslie Jones.

SNL vets David Spade and Dana Carvey will host The Show After the Show, which is set to feature JB Smoove and Kareem Abdul-Jabbar as guests. Though there are no details about what else will be on the post-show, I assume it will follow the format of similar series and recap a lot of what Rock has just done, highlighting his best jokes. Just a heads up, if you're into pre and post-show festivities, these will only be available to stream on March 4, while the actual stand-up special will remain on the platform after its live premiere.
Since it's live, we don't know what to expect from Rock, but he'll likely do material from his recent world tour. But, come on, what you really want to know is will he discuss the slap? It's been a regular part of his stand-up routine as of late, so it's a pretty safe bet that he'll have some thoughts on that infamous Oscar night moment. And knowing Rock, he's probably been saving up his most brutal jokes for the live special. The question is whether this will help or hurt the comedian? Considering how controversial and scandalous that Oscars slap was for both men, I do have to wonder if talking about it too much could backfire on the Amsterdam star.
Chris Rock: Selective Outrage streams live Saturday, March 4 at 10 p.m. ET/7 p.m. PT on Netflix. A "watch live" button will pop up on the home screen around 9:20 p.m. ET/6:20 p.m. PT.