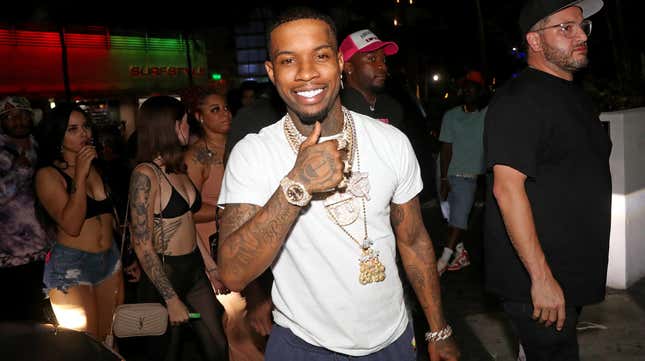 Despite Tory Lanez and his legal teams best efforts to push it off, push it back and get a new trial entirely when it came to his conviction of shooting Megan Thee Stallion—sentencing will ultimately be handed down to the Canadian rapper. And if the prosecutorial team has their way: he'll be in prison for 13 years.
Will The Real Black Journalists Please Stand Up
This was the amount put forth to the court via a memorandum filed on Tuesday according to legal affairs journalist Meghann Cuniff, who's been instrumental in following the case against Lanez from the beginning. Though the max sentence for Lanez is 22 years, eight months, and possible deportation back to Canada, prosecutors are only seeking 13 years, citing the "campaign of misinformation" against Megan Thee Stallion that they say the rapper was responsible for.
"Words have power and the pen is oftentimes mightier than the sword. In this case, Daystar Peterson [Lanez legal name] used both," the memo read. "Not content to have hurt the victim by use of his sword (gun), he also used his pen. His online posts for nearly three years have re-traumatized the victim."
It continued:
"His online reach is worldwide (millions of followers plus casual observers) and the defendant's statements embolden his followers so that they too have been complicit in re-traumatizing the victim. He is responsible for the effect of his words and his actions."
As further reasoning for this sentence, prosecutors brought up the fact that Lanez: violated Thee Stallion's order of protection when he gave a surprise performance at Rolling Loud Miami in 2021; spent a brief time in jail in April 2022 for reposting an alleged DNA evidence report that contained derogatory statements about Thee Stallion; engaged in an "unprovoked attack" on singer August Alsina; falsely accused prosecutors of falsifying and suppressing evidence; and his "full-length album with several songs about the shooting as an example of him 'profiting from his crimes.'"
Sentencing for Lanez is expected to be handed down on Tuesday, June 13.