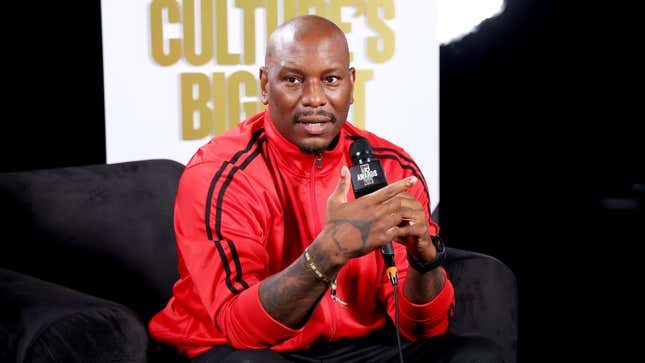 Tyrese is continuing to air out all his grievances when it comes to his marriage with ex-wife Samantha Lee.
Courtney B. Vance in Heist 88 Is Our Black TV Pick of the Week
The latest telling comes in the form of his recently released single, "Love Transaction," which details his feelings over the various things that have transpired in his previous marriage. This comes after the R&B crooner hopped on Instagram live on Sunday to express his frustrations over his current court case with his ex-wife and reflected on their union, calling it a "big fucking joke."
"I felt like my whole marriage was a big fucking joke. Just a transaction. I got married to do it for the rest of my life. I guess it was all a game to her. So it is what it is," he said in part at the time, per Complex.
As far as his song goes, the lyrics get a bit more specific about the turmoil he's been facing:
Need a resolution/Was it an illusion?/Can't get no satisfaction and now you've got me asking.

Dragging me in and out of court / Trying to take all that I've been working for / Can you justify what you say the baby needs? / Don't I make sure she has everything? / $20,000 isn't child support / We both know just who that money's for/ We had family ties but you went and cut me loose/ And now the baby's wondering why we're not under the same roof.
As previously reported by The Root, back in April, a judge ordered the Fast & Furious star to pay nearly $650,000 as a result of a tumultuous child custody battle. An Atlanta judge ruled that Gibson had to pay all the back child support owed to his ex-wife, Samantha Lee, plus interest, which amounts to over $230,000. Gibson must also cover $399,000 of her lawyer fees.
Additionally, the "Sweet Lady" singer is also embroiled in a legal fight against Home Depot after alleging civil rights violations stemming from a February transaction at the West Hills store in Los Angeles that included himself and his two construction workers. He is seeking $1 million in punitive damages, "compensatory damages, the amount the suit maintains Gibson has spent over time at Home Depot" and "a declaratory judgment that Home Depot's actions violated California's Unruh Civil Rights Act."