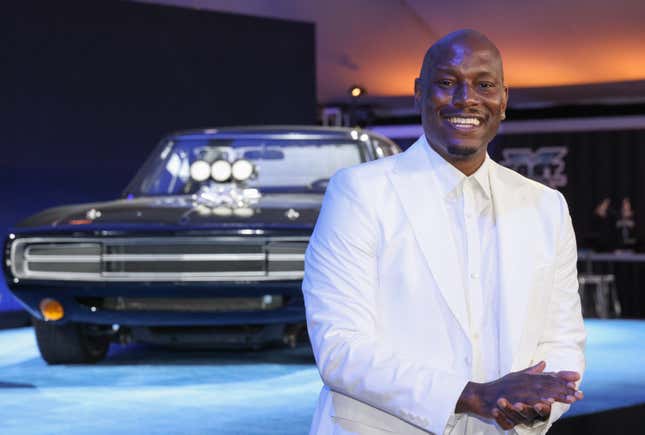 On Tuesday singer and Fast and Furious actor Tyrese Gibson was ordered to pay nearly $650,000 as a result of a tumultuous child custody battle.
Stars of Lifetime's A New Orleans Noel On Their Rom-Com Christmas Movie
According to TMZ, an Atlanta judge ruled that Gibson had to pay all the back child support owed to his ex-wife, Samantha Lee, plus interest, which amounts to over $230,000. Gibson must also cover $399,000 of her lawyer fees.
Per a previous ruling, the "Sweet Lady" singer was ordered to pay $10,000 monthly in child support, but instead was only paying a little over $2,000 and rationalized the decision to do so by telling the judge that his ex-wife makes good money on her own and that $10,000 was an "excessive" amount. As a result of today's ruling, Gibson's attorney has said that they plan to appeal the decision once the judge's order has been submitted and that they've already filed a motion for a new trial.
While these figures from today's development seem eyebrow-raising on their own, what's arguably even more intriguing are the allegations the "Signs of Love-Making" singer has put forth about the judge presiding over his case. In numerous posts to Instagram over the last two days, Gibson claims that the judge is racist, called his ex-wife a "bitch" in court, and posted screenshots of a separate message he received from an anonymous person who claimed similar behavior. Gibson also said that he and his lawyer tried to get a new judge citing "abuse of power" and that supporters of his were turned away from standing outside the court room and praying with him. The "Stay" singer also expressed his displeasure that limited press were allowed inside the court room while the proceedings were taking place and alleged that the Fulton County judge had a history of ruling against fathers.
"It's all the process, right? Is anyone really surprised the outcome?," Gibson said in a post on Tuesday. "I think of all things today of ALL things moved my ❤️ I just want to say to all of the fathers who showed up and was turned away for prayers today on the steps of the family law court building in Fulton County. I wish I would've seen you. I'm so sorry if you spent money on gas, and just simply wanted to show up and pray with me today, on behalf of all fathers, and the endless levels of injustices that continue to take place we will appeal."
He continued:
"I don't want anyone to like me. I don't want anyone to care for me. I'm not a celebrity, I am Shayla's and Soraya's's father, and I'm gonna stay committed to being the best father I can….When you sit at home, broke out of a job, mentally emotionally and physically unavailable for your children. We are called DEADBEATS! You get your ass whooped….Then when you work hard, lose a lot of sleep at night as a serial entrepreneur, traveling hustling trying to do whatever it takes to provide for your children so that their life is much better than yours? As a father you STILL get your ass whooped….

"For any fathers advocate groups, anyone that can represent me to get some new laws put in place that can go into Congress. I am ready along with a whole lot of other fathers who continue to get fucked over by the family law court system….I've never been the type of man to sit on my hands quietly bitch and moan at home about everything…. I stand UP a and speak UP a and OUT about injustice Change doesn't come from sitting at home quiet… I feel bad for all of the fathers that were turned away and not allowed to pray with me today… But I appreciate you guys carving out time to be there this morning…. -TG"