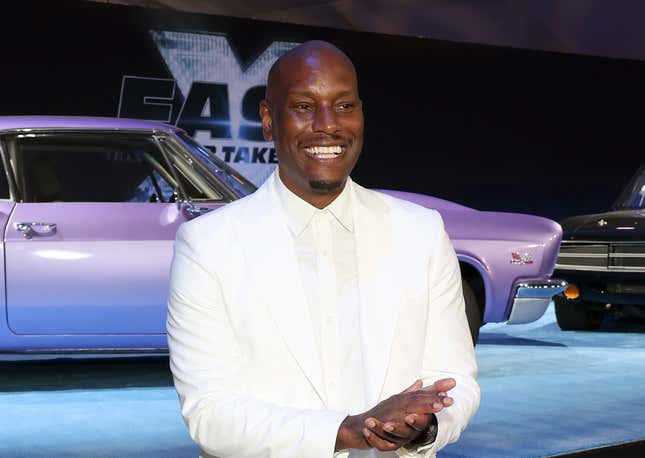 After experiencing a difficult transaction at Home Depot, Tyrese Gibson is taking the company to court to resolve the issue. The Fast & Furious star has filed a $1 million discrimination lawsuit against the home improvement chain.
Courtney B. Vance in Heist 88 Is Our Black TV Pick of the Week
According to Fox 11 in Los Angeles, on Wednesday, the singer/actor filed suit against Home Depot for alleged civil rights violations stemming from a February transaction at the West Hills store that included himself and his two construction workers, Eric Mora and Manual Hernandez, who are also plaintiffs in the lawsuit. Tyrese is seeking $1 million in punitive damages, "compensatory damages, the amount the suit maintains Gibson has spent over time at Home Depot" and "a declaratory judgment that Home Depot's actions violated California's Unruh Civil Rights Act."
As the three men were completing their purchase, Gibson noticed other customers began recognizing him, so he decided to wait in the car. In a video of the encounter, Mora and Hernandez are denied when they try to use Gibson's credit card, which he had given to them a few minutes earlier. His associates were told they needed proper identification to complete the transaction. When Tyrese called in on FaceTime, the cashier told him it was "store policy" and after a tense back and forth, he came into the store to make the purchases himself.
"The cashier gave no reasonable explanation other than repeating 'store policy' and demanded to see a form of identification," the lawsuit reads. "The manager refused to speak with Gibson in person. It was only after a significant heated discussion with the cashier that Gibson was finally able to complete the transaction."
During his confrontation with the cashier, the Transformers actor noted that when he bought two candy bars a few minutes earlier, no one asked him for identification and the previous Home Depot employee saw him hand his card to Mora and Hernandez. The "Sweet Lady" singer also highlighted how he's been coming to that particular location for years and this is the first time this has been an issue.
Gibson "and his associates ... experienced outrageous discriminatory mistreatment and consumer racial profiling first-hand inside the Home Depot retail store in West Hills," the suit states. "The company needs to understand that there are consequences for discriminatory mistreatment and consumer racial profiling."
On Thursday, Home Depot responded to the lawsuit in a statment to People:
"Diversity and respect for all people are core to who we are, and we do not tolerate discrimination in any form. We value Mr. Gibson as a customer, and in the months since this happened, we've reached out to him and his attorneys several times to try to resolve his concerns. We will continue to do so."
In the video, while he's obviously upset, Tyrese keeps his cool with the visibly annoyed cashier and the manager who shows up to try and resolve the situation. He calmly but firmly lets them know that he feels this incident was racist and that he's neighbors with Home Depot's CEO and will pursue the matter further. Clearly he didn't get the answers he was hoping for.