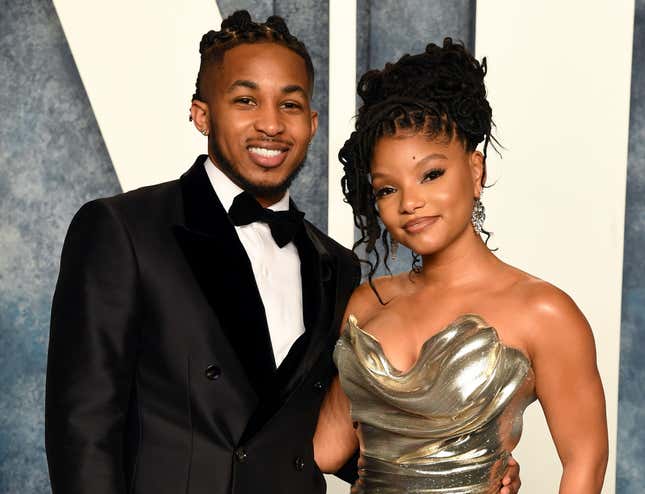 In case you missed it, over the weekend DDG—rapper and boyfriend to The Little Mermaid star Halle Bailey—caused quite a stir online thanks to a new song he released admitting his insecurities about the their relationship and her success.
Questlove On Going To School With Boyz II Men & Other Music Greats | Securing the Bag: Part 2
Titled "Famous," the nearly four-minute-long song seemingly takes shots at Bailey, explaining how the hardest thing he ever did was fall in love with "a famous bitch" and that all he ever asked her to do was "basic shit." As the song continues, the rapper discusses his frustration—and fragility—when it came to seeing this famous woman that he loves "kissing dudes" and holding hands while filming a movie; getting DMs from men congratulating her on her successes; wondering if she's actually sleeping with her costar and more:
"I been so insecure that I be thinkin' you really be fuckin' niggas you in movies with// But on the internet, I just be coolin' it, but in my head, a nigga really losin' it.

Gotta be payin' good 'cause you keep doin' it, I might just tweet somethin' just to ruin it// I got a platform, I'm abusin' it.

It's a couple things about your job I wanna know (I do)

When you shoot your movie, do these niggas turn you on? (On)When you leave the set, do y'all still text each other phone? (Phone) Just because they filmin' it, it don't mean that it ain't wrong."
Look. It's one thing to have these insecure feelings and discuss them with your partner with the intent to make them aware of how you're feeling and then take that personal journey to fix it. But it's a whole other thing to publicize your relationship insecurities to the point where you project a false image of your partner as a potential cheater to the masses and even admit to doing something to sabotage their success because of it. Yeah, that "I might just tweet somethin' just to ruin it" line hits different when you remember how he repeatedly trolled her and her new film online.
This song—coming off the heels of days-long discourse stemming from Keke Palmer's boyfriend's attempt to mom-shame her (as a way to cover up his insecurities about her getting attention from Usher at his concert, if we're keeping 100) just further highlights the conundrum that often follows successful women who are in relationships with men who are lowkey jealous of their success.
Even though part of the allure of the relationship was due to the fact that their respective partner is famous, successful and "a catch," men who haven't come to grips with how to properly manage their egos and their own internal emotions will no longer view that as an attraction and start to feel some level of resentment and insecurity once they feel their own value and what they bring to the table is called into question. And unfortunately, this can manifest into shady songs, questionable tweets, and far more insidious things if left unchecked.
In both Palmer and Bailey's situation, their respective partners knew exactly who their girlfriends were and the star power they possessed when they got together—and if they didn't, they learned almost immediately afterward. They should not be expected to dim their light, shirk back from their successes, or over-explain their intentions to assuage the frail feelings of their partner. If the roles were reversed, those same men would feel the same way and take issue with their partners moving in the way that they did.
As the old saying goes: "If you can't stand the heat, get out of the kitchen." And if you can't handle the success of a Black woman, leave her alone and get out of her way so the next man can.