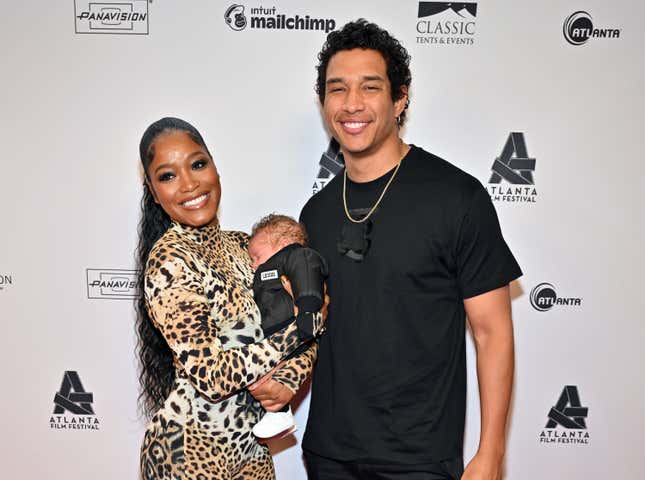 On July 5, 2023, Darius Jackson, the father of Keke Palmer's child, took to Twitter to call out Palmer for her outfit choice at Usher's residency show in Vegas. Now, he's getting ripped apart on Twitter for his comments. But he didn't stop there.
Bruiser Cast Dissects The Film's Ambiguous Ending
Recently, he doubled down, saying this is family and certain standards should be up held. In other words, it's none of our business.
Then, our beloved Keke shared a post this weekend. In her post, she writes "One thing is certain and one thing is true, IM A MOTHA, through and through!"
We are not sure this is linked, but....hmm. Keke also shared a Tiktok. In the tok, she is dancing so adorably to these words: "You ain't stopping what's going on with me, sweetheart. So, if you about to act up, I'm 'bout to link up."
But let's go a little deeper.





If you aren't familiar with Keke Palmer's podcast, Baby, This Is Keke Palmer, then you missed a bit of insight into her and her baby daddy's dynamic. In June 2023, she recorded a live episode with the app Amp, featuring her mother Sharon, and Darius where they all gave their opinions on various celebrity relationship scenarios from confronting a possible cheating partner to gender roles.
Keke prompted the question: "How would you approach a matter when you feel like your partner is entertaining other people behind your back?"
Darius answered that he would go straight to his partner with his troubles, which is false given his actions one month later when he ran to Twitter about his problems with Keke's attire for a girl's night out.

He continued his thoughts saying that he fully understands he's dating a woman that is adored and pined after by so many people, saying to her, "I already have the anticipation that people will continuously knock on your door."
Keke confidently jumped in saying, "Period, he knows he got a catch." Instead of agreeing at that moment, Darius jokingly (but maybe not-so-jokingly) snapped, "Alright now, don't get too carried away."
Yikes, that sounds kind of familiar. There goes that same degrading language he used in his tweets.
So, there we have it folks. Darius may not have actually been upset with the outfit that she wore, especially given that he's outwardly shown off her body on social media before.
Instead, drum roll: he likely felt threatened that that "door" could be opened by Usher, someone that from our perspective could be competition for Darius.
In 2023, Keke went on The Jason Lee Show and talked about her search for love as a celebrity saying, "For years I used to think, 'Am I ever going to find somebody that understands my lifestyle, that's ever gonna be able to get it and be secure in it?'"
Notice how she used the word secure? Well, it seems like that security was threatened when she stepped on Usher's stage in that see-through fit. Darius clearly shows how insecure he is, which is against one of the things Keke was looking for in a partner.
Darius must have thought that she would dim herself to make him feel more comfortable. Nope! In the famous words of his girlfriend, "Sorry to this man!"