The Cosby Show, which debuted 30 years ago, overwhelmingly won the hearts and votes of The Root's readers in our contest for the greatest black TV show.
Beyoncé's Feminist Anthem "Run the World (Girls)" A Decade Later
During its eight-year run (1984-1992), the NBC sitcom held the No. 1 prime-time spot for five consecutive years. Thirty years later, with syndicated episodes on a number of networks—on any night of the week—it's no surprise that TV fanatics are still placing the groundbreaking series at the top of their lists.
When it comes time to honor The Cosby Show, there are, of course, conversations about how the show changed the game for blacks on TV, and updates about what the cast has been up to. But how did the Huxtable kids feel about growing up on The Cosby Show?
We welcomed Sondra, Denise, Theo, Vanessa and Rudy into our living rooms every Thursday night. Unlike many other child stars of the '80s, the Huxtable kids stayed out of the tabloids post-Cosby. Our favorite TV kids have grown up, and with the exception of Lisa Bonet, the cast have spoken pretty fondly about their Cosby Show roots. Take a look at what Cliff and Clair's kids have said over the years about auditioning for the show, lessons learned from Bill Cosby and breaking out of the Huxtable mold.
G/O Media may get a commission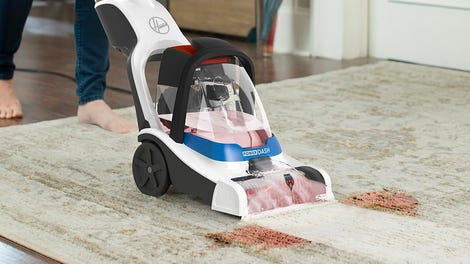 26% Off
Hoover PowerDash Pet Compact Carpet Cleaner
On Biggest Lessons Learned From Bill Cosby
Malcolm-Jamal Warner (Theo Huxtable): "I think one of the greatest advantages we had on the show growing up was being exposed to Mr. Cosby—being exposed to his work ethic, being exposed to how he handles the job of celebrity and living in the public eye," Warner told CBS News in September. "I think that all had a real significant impact."
Tempestt Bledsoe (Vanessa Huxtable): "Dr. Cosby and I are still very close. [He taught me] the power of example rather than just the words you speak. A lot of people say a lot of things, but what they do is something different," Bledsoe said on Today in 2013. "What he says has always coincided with what he does. He was always an incredible example of professionalism, and I will always adore him."
On Most Memorable Moments
Sabrina Le Beauf (Sondra Huxtable): "When Mr. Cosby decided to do an episode where I would have kids. He would not tell anyone what the names were. But he told me privately in his dressing room," she said in a 2013 interview at the New York Studio for Stage & Screen in Asheville, N.C. "It wasn't a scene that was written. The scene came, and I'm in the hospital bed. He comes to me, says, 'I saw the babies.' And I go to say, 'Did you see their names?' He said, 'Yes, Winnie and Nelson.' At that time, in the climate we were in, you did not say those names. So we said it. And there it was for the world."
Warner: "What was most impactful for me was the scene after [the Monopoly game] when Theo gives this wonderful speech about being regular people. It was a wonderful, heartfelt speech, and the audience applauded," Warner said on Today in 2009. "What was really important about that moment was that on any other sitcom, Theo would've given that speech, the music would've started, the father would've said, 'Son, you're right.' They would've hugged, and it would've been a tender, sappy moment. But it was wonderful that that moment really set the tone for the show that it was not going to be like every other sitcom. It was really going to come from reality. It really was a dumb speech, and Cliff caught him on it."
Bledsoe: "The things that Bill used to do. He'd keep us on our toes. A lot of things that made it to the camera were ad-libs most of the time," Bledsoe said on The Keenen Ivory Wayans Show in 1997. "And I think Malcolm was one of the best of us at keeping up with Bill. We had a lot of fun with him."
On Auditioning for the Show
Le Beauf: "I get a call, take a subway out to Brooklyn. I walk into a room with the producer, writers and Mr. Cosby. They introduce me to all of them. I say, 'You don't have to introduce me to him; I know him.' I said, 'I love you.' And he said, 'She's got the job already,'" Le Beauf said. "And I audition, and I swear to you, by the time I took the subway back to my house, I had had a call that I got the job. That is the power of Bill Cosby."
Warner: "I was the last person to audition for the role. I read Theo like I saw kids on TV. I'm hitting all the beats and playing the precociousness to a T. I'm killing in the room," Warner told Emmy TV Legends in 2013. "I look up at Mr. Cosby, and he says, 'Would you really talk to your father like that?' I did a 180-degree turn, and he said, 'That's what I'm talking about.' I booked it that day. Jay Sandrich said I got the job because I knew how to take direction."
On Avoiding Child-Star Drama
Warner: "I also knew that whatever I did [after Cosby] was not just a reflection on me or my parents but also a reflection on Mr. Cosby and what The Cosby Show represented. So with that there was a certain invisible set of boundaries that I was keenly aware of," Warner told Emmy TV Legends. "There's something to be said for having that life and not losing your mind. I had the kind of mother that if I went overboard, she would check me. I still grew up with a certain fear of/respect for the authority figure in my house."
Raven-Symoné (Olivia Kendall): "My parents taught me to keep my private life private," Raven-Symoné told Oprah in an interview that aired in early October. "They showed me all the role models out there that I could turn into, and what I want for myself in the future. And seeing all the … child stars going off the edge, what I've learned? It's unnecessary to go to the most popular restaurant in the world when you have a scandal on your head, and then get mad that someone's going to take a picture of you."
On Going to College
Bledsoe: "I wanted to go to college on time, and I did," Bledsoe said in 2012 of attending New York University. "When Dr. Cosby found out I was doing that, he moved the shooting schedule."
Keshia Knight Pulliam (Rudy Huxtable): "I loved [Spelman College]. I really enjoyed school, and I'm happy that I did decide to take that break away from the industry," Pulliam said in a 2009 interview.
On Booking Roles After Cosby
Pulliam: "Actually, [Tyler Perry] had me in mind for a different role: Derek Luke's character's fiancee, the young DA from a good family. The sort of Huxtable trajectory. But being the Keshia that I am, I said, 'I'm thankful. However, I really want to play Candy,'" Pulliam told Entertainment Weekly in 2009 about playing a prostitute in Tyler Perry's Madea Goes to Jail.
Warner: "I think it was hard not to get typecast because the show lasted for so long and it was globally successful," Warner told Backstage in July. "I knew that no matter how great the show was, it was not going to be around forever." 
Erin E. Evans is a writer and editor in Brooklyn, N.Y. Follow her on Twitter.