The votes have been tallied! For the past month, readers of The Root have cast their votes for the greatest black TV shows of all time. The Cosby Show won by a landslide, but Nos. 5-10 were almost too close to call. Take a look at what you've decided are the top 10 black TV shows.
1. The Cosby Show (1984)
How fitting that 30 years after its game-changing debut, The Cosby Show is still the best of the best. How did we pick a top moment on the greatest black TV show? We didn't. Instead, we trolled YouTube for a compilation of some of the funniest moments. Last month we also compiled a list of 12 life lessons from Dr. Huxtable.
2. A Different World (1987)
This perfect spinoff from The Cosby Show did for black college life what its parent show did for black family life. We love this scene for so many reasons: Dwayne swoops in to get his girl, Whitley's mother (played by Diahann Carroll) delivers an unforgettable line and Papa Pope, er, Byron gets dumped at the altar. Wedding episodes on black sitcoms were always an affair to remember.
G/O Media may get a commission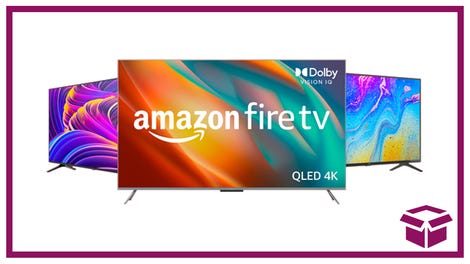 Ooh. stunning.
New Amazon Fire TVs
3. The Fresh Prince of Bel-Air (1990)
The show that helped launch the screen career of Will Smith, who turned his wisecrackin' hip-hop persona into one of our all-time favorite characters. This memorable moment goes out to the first Aunt Viv, who serves up post-40 ballerina realness in this dance audition. Someone sign up Janet Hubert for Dancing With the Stars.
4. In Living Color (1990)
This show was the first inkling of the amazing comedic talents of the Wayans family. In this skit, Blaine Edwards and Antoine Merriweather were all things fab-u-luss in "Men on Film." Watch as they review Do the Right Thing, Great Balls of Fire and, of course, Dick Tracy.
5. Living Single (1993)
The four young, black and single women of this show were already living large five years before Carrie Bradshaw and Co. made the scene in Sex and the City. Maxine Shaw and Kyle Barker were one of our favorite love-to-hate-you duos on television. They were always quick to crack on each other but also enjoyed a good romp between the sheets from time to time. Watch as Max can't sit still as Kyle serenades her with "My Funny Valentine." Don't fight it, Max!
6. Good Times (1974)
The No. 1 lesson we learned from this iconic show: Even when times are tough, you can always count on family. We laughed and cried with the Evans family, who showed us any number of ways of "keeping your head above water; making a way when you can." In this memorable clip, Florida and the kids receive news that James Evans Sr. has died. 
7. Martin (1992)
As The Root's Diana Ozemebhoya Eromosele recently noted, this lovable couple from different sides of the track taught us all we need to know about relationships. This clip is likely one of the most talked-about episodes on the series' five-season run: "Gina, that ain't no damn puppy!"
8. Soul Train (1971)
It was Mary Wilson of the Supremes who convinced Don Cornelius to take his talents down the Soul Train line. Take a look at his moves at the 1:35 mark.
9. The Wire (2002)
While this show may have started out following the story of white Baltimore Police Detective Jimmy McNulty, it was the show's ability to tell deep, rich stories about the lives of its young black characters that landed it on our list. It also created on of the most iconic characters in history, Omar Little. He put the fear of God in nearly anyone he passed on the streets of Baltimore.
10. Chappelle's Show (2003)
Over the show's three-season run (two seasons plus "the lost episodes"), Dave Chappelle left us with several memorable skits and characters. But Grantland's Rembert Browne said it best when he dubbed Chappelle's "Clayton Bigsby" as the comedian's Illmatic.
Here's the rest of the top 50:
11. The Jeffersons  (1975)
12. Roots (1977)    
13. Sanford and Son (1972)         
14. The Oprah Winfrey Show  (1986)     
15. Scandal (2012)
16. The Bernie Mac Show (2001)
17. Family Matters (1989) 
18. The Boondocks (2005)           
19. 227  (1985)
20. Sister, Sister (1994)     
21. Moesha (1996)
22. The Proud Family (2001)       
23. Soul Food (2000)         
24. The Flip Wilson Show (1970)
25. My Wife and Kids (2001)
26. Amen (1986)
27. The Steve Harvey Show (1996)         
28. The Arsenio Hall Show (1989)          
29. Fat Albert and the Cosby Kids (1972)          
30. Def Comedy Jam (1992)        
31. What's Happening!! (1976)   
32. Diff'rent Strokes (1998)
33. Orange Is the New Black (2013)      
34. Julia (1968)
35. The Jamie Foxx Show (1996)
36. That's So Raven (2003)         
37. The Game (2006)        
38. Benson (1979) 
39. Key and Peele (2012)     
40. The Chris Rock Show (1997)
41. The Wayans Bros. (1995)      
42. Kenan & Kel (1996)     
43. Treme (2010)   
44. Oz (1997)           
45. Hangin' With Mr. Cooper (1992)       
46. The Parkers (1999)     
47. Gullah, Gullah Island (1994) 
48. Smart Guy (1997)        
49. One on One (2001)     
50. Tyler Perry's House of Payne (2006)        
Erin E. Evans is a writer and editor in Brooklyn, N.Y. Follow her on Twitter.