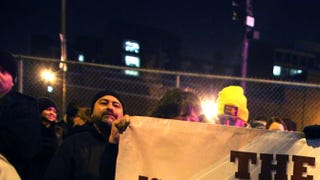 Several groups who find the Washington Redskins name to be offensive are asking NFL players to join the cause.
The Oneida Indian Nation and the National Congress of American Indians, two groups who have been vocal about changing the team's name, started the letter-writing frenzy that just last week had some 50 Senate Democrats penning letters to voice their displeasure with the team's name, the Associated Press reports.
Dozens of Native American, civil rights and religious organizations have signed a letter that they plan to send to every NFL player on Wednesday asking each person to add his "powerful voice to the hundreds who are already speaking out."
The letter will be mailed to teams and sent directly to players via Twitter. Recently, the Seattle Seahawks' outspoken cornerback Richard Sherman expressed concern over what many Native Americans have called a racial slur.
Team owner Dan Snyder and newly named team president, Bruce Allen, have vowed to never change the name.
Read more at the Associated Press.