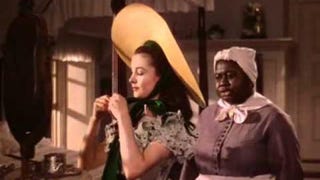 Mammy's story will finally be told.
On Thursday, Simon & Schuster imprint Atria Publishing announced that it had acquired rights to Ruth's Journey, a prequel to "Gone With the Wind" that tells Mammy's version.
According to New York's Daily News, the novel, by Donald McCaig, is set to be published this October. It will be McCaig's second spinoff of Margaret Mitchell's 1936 novel. His first, Rhett Butler's People, was written in 2007. Both novels have the blessing of the Mitchell estate.
Actress Hattie McDaniel, who won an Academy Award for the role but wasn't allowed to sit with her fellow Wind actors at the ceremony, played Mammy in the film version of the book.
"What's really remarkable about what Donald has done is it's a book that respects and honors its source material," Atria's editorial director Peter Borland told the New York Times. "But it also provides a necessary correction to what is one of the more troubling aspects of the book, which is how the black characters are portrayed."
Read more at the Daily News and the New York Times.