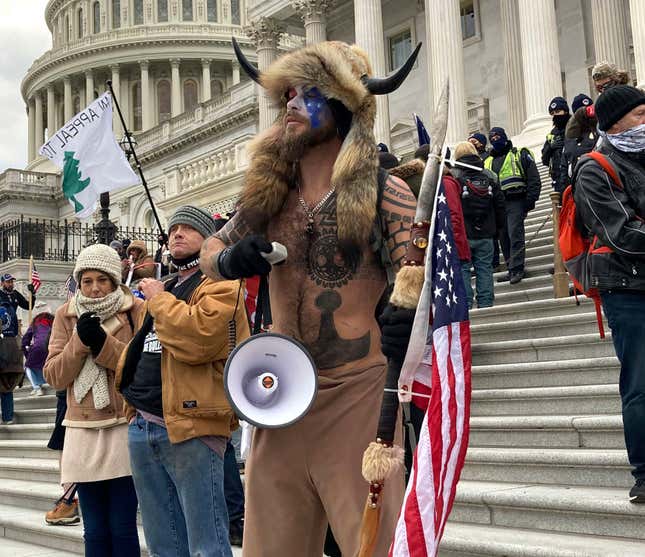 The Proud Boys accused of seditious conspiracy and plotting violence in order to keep Donald Trump in office with the January 6, 2021 attack on the Capitol are now demanding that the former president testify. The attorney for one of the five defendants, Joseph Biggs, says the law is on his side with this request.
Tucker Carlson Might Be Gone But Fox News Remains a Cesspool of Hate
"At all times relevant, Trump was president of the United States, and it's the government's obligation to produce him," lawyer Norm Pattis stated in court on Thursday. In addition, he explained that he needed help from the government to serve a subpoena on Trump because the U.S. Secret Service continues to protect him.
Last month, an attorney for longstanding Proud Boys Chairman Henry "Enrique" Tarrio used his opening statements to pinpoint Trump as the one responsible for the riot. However, if Trump is forced to testify—which probably won't happen—he could says he has executive privilege over any talks he had during his presidency.
And if that doesn't work, Trump could always do what he does best: plead the fifth to circumvent self-incrimination. This will probably be in his best interest since he is under investigation for his actions pertaining to Jan. 6.
In addition, Fox News—which is the primary peddler of dangerous misinformation—is now being sued for spreading lies. The network falsely stated that Dominion Voting Systems machines were used to help rig the 2020 election. Dominion filed a $1.6 billion defamation lawsuit on Thursday legal filing saying Fox News hosts and executives knew their "stolen election" claims being promoted by Donald Trump and the GOP were untrue—they said as much in private.
Dominion stated in the filing: "Not a single Fox witness testified that they believe any of the allegations about Dominion are true. Indeed, Fox witness after Fox witness declined to assert the allegations' truth or actually stated they do not believe them, and Fox witnesses repeatedly testified that they have not seen credible evidence to support them."
Regardless of the outcomes, it looks like these Republicans may finally be held accountable for their actions.