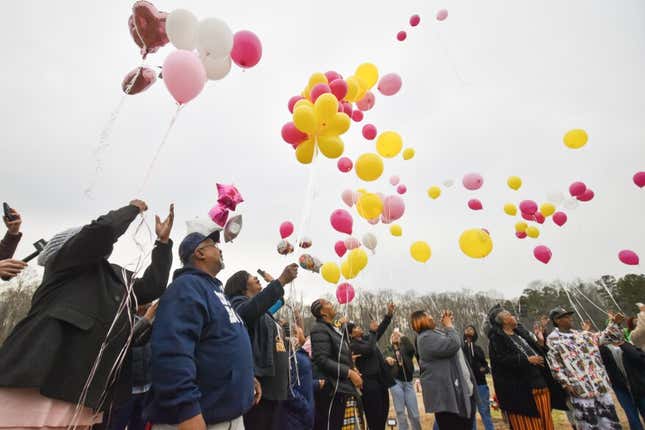 On Sunday, friends and family of Shanquella Robinson gathered at her Huntersville gravesite to celebrate her birthday with songs and balloons. Robinson died in October while on vacation with six friends in Mexico. Both Mexican and U.S. authorities have been investigating Robinson's death.

Small Town Horror Story: The Mysterious Death of Shanquella Robinson
Today (1/9), Robinson would have turned 26. Her mother, Sallamondra Robinson, was present for Sunday's outpouring of love that took place at Beatties Ford Memorial Gardens in Huntersville. "It felt really good that so many people came out to celebrate her birthday, and she is smiling down on us," her mother stated.
Robinson's cause of death was officially listed as severe neck and spinal injuries. Shortly after her death, a video made its way online that apparently showed a woman on the trip attacking Robinson. Mexican officials released a statement that they had issued an arrest warrant for a woman believed to be "likely responsible" for Robinson's death. However, no arrests have been reported.
Although interest in the case has seemingly dwindled, that hasn't stopped Sallamondra from being adamant about receiving justice for her daughter. "I know that justice is coming, and there will be arrests. I know it's on the way. Someone's going to pay for this, because she did not deserve this."
The event that took place on Sunday was put together by Mario Black with the Million Youth March of Charlotte & Salisbury. Just last month, Black organized a rally at a church in Charlotte for Shanquella.
"Our hope is justice," Black stated. "And this is one way of keeping it going, keeping it alive, to let them know that we haven't forgotten. We're not going to let up until justice is served." The FBI investigation into Shanquella's death is separate from the one Mexican authorities are overseeing.