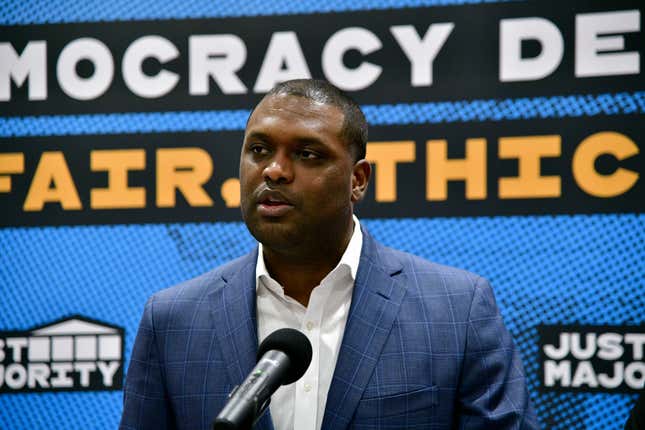 Former New York Congressman Mondaire Jones is back to fight for his former seat in the Hudson Valley. On Wednesday, Jones announced that he'd be running for New York's 17th Congressional District in a bid to flip the seat back into Democratic control.
Courtney B. Vance in Heist 88 Is Our Black TV Pick of the Week
Jones will have to face off against Liz Whitmer Gereghty, an education advocate who happens to be the sister of Michigan's Democratic Governor Gretchen Whitmer. The race is expected to be competitive as Democrats vie to take control of the seat from Republican Mike Lawler.
But the former Congressman does have one big thing on his side, namely experience with the district. In 2020, Jones won his race to represent the 17th district. But when redistricting happened, it placed him in direct competition with Rep. Sean Patrick Maloney, who chaired the House Democrats campaign arm. Rather than run against Maloney, Jones opted to run in the 10th district instead, where he lost to Congressman Dan Goldman. Maloney also lost the general election race to Lawler.
Backing down to make room for Maloney is a decision Jones has come to regret. "I never imagined that I would wake up one day and would have to decide against primarying a member of the Democratic party at a time when we were seeing an assault on our democracy," Jones told News 12 Westchester. "To that extent, yeah, I do regret not being the Democratic nominee last cycle."
Now, Jones says he's ready to take the district back. "I've never been Washington's choice. It's because I stand up to corruption. I battle with Republicans trying to overthrow our democracy & ban abortion, even as I push my party to fight harder for working people," said Jones on Twitter, announcing his candidacy. "I'm running to finish the work I began."