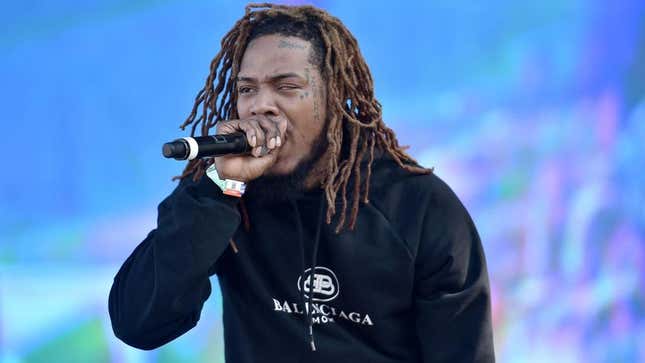 It seems like things aren't going "My Way" for New Jersey rapper Fetty Wap.
Originally arrested in October 2021 on federal drug charges, he was sentenced on Wednesday to six years in prison for trafficking narcotics across the country, according to The New York Times.
Chuck D's Fight The Power: How Hip Hop Changed The World Is Our TV Pick
Prosecutors argued that Wap, whose real name is Willie Junior Maxwell II, was part of a drug ring that moved heroin, cocaine, and Fentanyl (the rapper himself was only involved with coke, they said), importing the drugs and then cutting them with other substances so they could sell them in higher quantities.
In August 2022, the "Trap Queen" pleaded guilty in a Long Island, N.Y. courtroom on federal drug charges which are worth a maximum sentence of 40 years behind bars. But, the minimum sentence is just five years and because of his plea agreement, he was guaranteed not to serve more than 10 years and a day in the bing.
Before he pleaded guilty, he was sent to jail after prosecuting attorneys claimed that he threatened to kill a man during a FaceTime call in 2021, which violated the terms of his pretrial release in the drug conspiracy case.
More from The New York Times:
In a letter to the judge last week, prosecutors had argued for a longer term, saying that he had used his fame to "glamorize the drug trade" while making millions from his music after "Trap Queen" was released in 2015. They pointed to the use of children as extras in the song's music video and noted that the case had received ample attention from the media.
It's been a long fall from grace for Fetty. During the mid-2010s he was among the most popular hip-hop acts out. His peak was in 2015 when he dropped hit singles "Trap Queen" and "My Way," the former of which reached the second spot on the Billboard Hot 100.
Drake was also featured on the remix of "My Way" which went triple platinum in my headphones.
Since then, it's been a deep decline, all the way to federal prison, where he'll have plenty of time to cook up a returning track when he gets out of prison in six years.