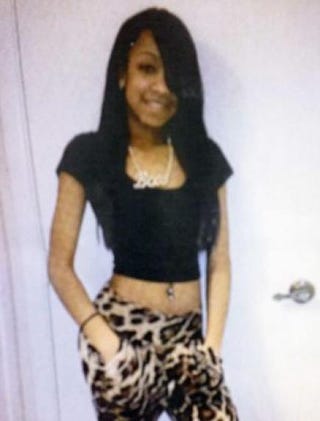 Fifteen-year-old Dominique Allen wanted to be a model. She had plans to one day attend the prestigious Spelman College in Atlanta. Last weekend the Indianapolis teen's body was found burned, and police believe that she didn't know the person who abducted and killed her.
Dominique had been staying with one of her sisters, Mareeka Allen, when she went missing. She was last seen on Allen's porch around 4 a.m. Sunday. A man walking his dog Sunday morning found her body in his backyard, the Associated Press reports.
Marion County Chief Deputy Coroner Alfarena Ballew told AP Tuesday that Allen's death was ruled a homicide from asphyxiation. 
"At this time, we believe it was random," Indianapolis Metro Police Detective Marcus Kennedy told AP. He noted that Dominique was dead before her body was burned, according to AP.
Family members note that Dominique wasn't the type to get into the car of a person she didn't know, much less speak to a stranger. Police told AP that they are searching sex-offender registries in the area for possible leads.
On Tuesday, sandals and a purse both belonging to Dominique, who attended Ben Davis Ninth Grade Center, were found a block away from where her body was left. 
"I don't know why you had to do this. Whatever you do, wherever you go, justice is going to be served, in this life or the next," Shenika Poindexter, another of Allen's sisters, said during a news conference, AP reports. "I don't care, they will hunt you until you die. … She did not deserve this, she did not deserve this; she was 15 years old."
Read more at the Associated Press.