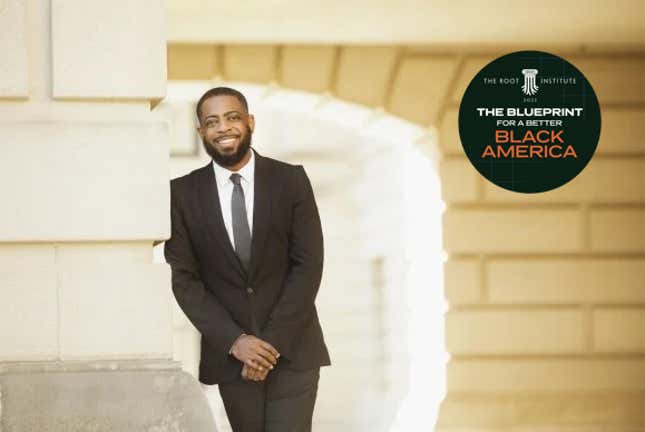 This article is part of The Root Institute 2023 pre-event coverage.

A 38-year-old realtor won the Democratic primary election Tuesday, being declared as Mississippi's first openly gay state legislator. The victory comes weeks after the Human Rights Campaign declared a state of emergency upon the passing of anti-LGBT legislation.

Comedian London Hughes Talks New Book, Parents Watching Her Very Sexual Comedy, & Beyoncé
Fabian Nelson, a Byram native, won the runoff to represent the Hinds County district in the House of Representatives, per AP News. Nelson was up against Tougaloo professor Roshunda Harris-Allen and a local pastor who came third in line. However, Nelson didn't lead his campaign based on his sexuality. He relied heavily on his relationship to the community and determination to make resources more accessible to the voters he'd serve.
Read more from WLBT:
Fabian Nelson being an openly gay man wasn't part of his campaign platform. But as he reflects on the history he's making, he knows it's significant.

"I think it's vital that we have people that represent every single person in that building," described Nelson. "Because until you walk in those shoes, you cannot properly advocate until you walk in those shoes, you cannot understand the severity and totality of the issues. So being a voice and being able to be a voice of reason, and saying, Hey, come to me, let's talk about it. And you can change people's perspectives when you have those conversations."
One of the things Nelson plans to fight for in office is better access to healthcare and possibly expanding Medicaid for the southern Jackson and Byram communities. On the topic of medical care, his win comes on the heels of the state passing dozens of bills targeted at the LGBTQ+ community and particularly, banning of gender-affirming care such as hormone replacement therapy. Out of the 31 bills introduced to ban books, wipe LGBT history from the classroom and so on, blocking gender-affirming measures was the one that stuck, per The Mississippi Press.
After the bill was written into law, the HRC declared that LGBTQ Americans were officially under attack, not just in Mississippi but nationwide. Annise Parker, president of the LGBTQ+ Victory Fund, told AP Mississippi is one of the last few states elect an out LGBTQ lawmaker. The Victory Institute found Louisiana, South Dakota and Alaska still don't have any known LGBTQ legislators.
As of now, Nelson has no general elections challengers and will be sworn in ahead of the next legislative session in January.