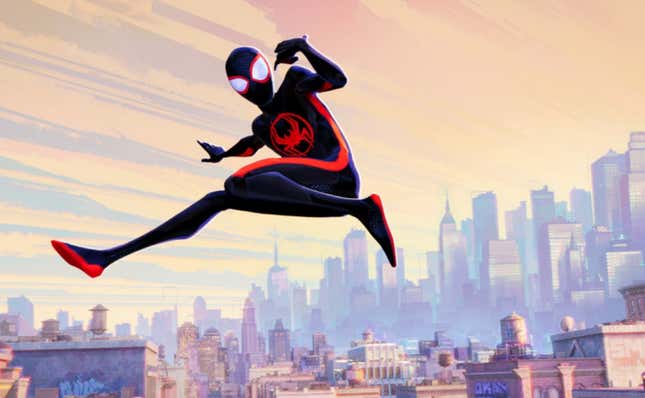 I'm never going to miss a chance to hype up Miles Morales.
His Spider-Man allows people of color, especially children, to see themselves in the iconic hero. Also, his journey feels more down-to-earth and authentic than Peter Parker's. And that's not a knock against Peter, there's just something fresh and modern about Miles. Underneath all his amazing feats of heroism, he's still just an awkward teenager. His attempts to balance his two lives, which often fail miserably, feel real and relatable. In the new young adult book, Miles Morales Suspended: A Spider-Man Novel, he discovers that creating some sort of unity between his two worlds is harder than saving the day. Jason Reynolds returns to write this sequel to Miles Morales: Spider-Man, which is set for release on May 2. Of course, before you put in your pre-orders, The Root has the exclusive reveal of the cover for Miles Morales Suspended: A Spider-Man Novel.

Lupita Nyong'o On Making Wakanda Forever and the Loss of Chadwick Boseman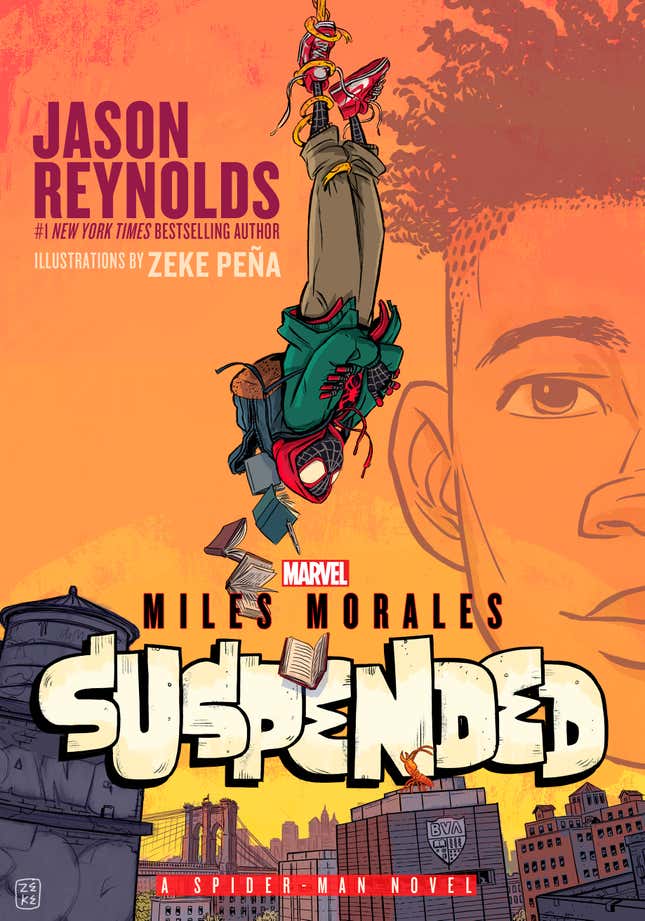 "What I love most about Miles Morales, beyond his superpowers, is his relatability. Sure, he's a hero but he's also a teenager which can sometimes feel like the most unheroic station in life," Reynolds said in a statement to The Root. "In this new book, Miles Morales: Suspended, Miles feels pretty powerless. Because he's trapped. In suspension. Which means he's forced to figure out how to save the school and himself, all from a single room."

The story follows Miles as his undercover superhero work leads to him being suspended at the same time that he's trying to work up the courage to actually talk to his crush. There's just something sweetly endearing about Miles. He feels like a familiar friend, who we will always root for. He has an everyman quality that not all superheroes possess. It's what drove the character's instant connection with fans and what keeps us consistently fascinated with his stories.
Per the official description: "What begins as a long boring day of in-school suspension is interrupted by a little bzzz in his mind. His spidey-sense is telling him there's something not quite right here, and soon he finds himself in a fierce battle with an insidious…termite?! His unexpected foe is hiding a secret, one that could lead to the destruction of the world's history—especially Black and Brown history—and only Miles can stop him. Yeah, just a typical day in the life of your friendly neighborhood Spider-Man."
And just in case this isn't enough Miles Morales, don't forget that he returns to the big screen on June 2 in the highly anticipated sequel Spider-Man: Across the Spider-Verse.
Shameik Moore is back to voice Miles Morales/Spider-Man, alongside Hailee Steinfeld as Gwen Stacy/Spider-Woman; Oscar Isaac as Miguel O'Hara/Spider-Man 2099; Brian Tyree Henry as Miles' father Jefferson Davis; Luna Lauren Velez as Miles' mother Rio Morales; Issa Rae as Jessica Drew/Spider-Woman; and Daniel Kaluuya as Hobart "Hobie" Brown/Spider-Punk.