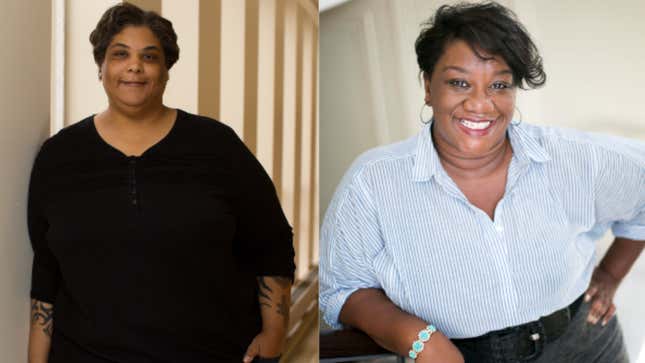 Attention fellow badass women! There's a new podcast coming just for you. I mean, everyone else can listen, too, but it's made for the badasses.

American Ninja Warrior: Season 15 Is Our TV Pick of The Week
In a live Coachella performance that changed the way we refer to the desert-based festival, Beyoncé told her audience that she not only slays, but you slay as well.
Cue writers and overall badasses Roxane Gay and Dr. Tressie McMillan Cottom, who have announced the upcoming release of their new podcast, Hear to Slay. See what they did there with that play on words?!

Per the press release, Hear to Slay "will be a black feminist podcast, with an intersectional perspective on celebrity, culture, politics, art, life, love and more." The array of confirmed guests will include Natasha Rothwell, Gabrielle Union, Audra McDonald, Sarah Paulson, Ava DuVernay and Gloria Calderón Kellett.
Hear to Slay will be housed on the Luminary app, which has been dubbed the "Netflix of podcasts."
"We want to become synonymous with podcasting in the same way Netflix has become synonymous with streaming," Matt Sacks, Luminary's co-founder and chief executive told the New York Times in a March interview. "I know how ambitious that sounds. We think it can be done, and some of the top creators in the space agree."
"I've been appearing on other people's podcasts for years now, and when I've done so I've had great conversations with smart people, but I've also thought about what it might be like to host a podcast of my own," Gay said in a statement provided to The Root. "As I began to imagine my ideal show, there was only one woman I wanted to work with, Tressie McMillan Cottom, my co-host for Hear to Slay. Tressie is fiercely intelligent, hilarious, and genuine. She is as provocative as she is charming. Together we've developed a show that will cover the high brow, the low brow and everything in between. We are particularly excited to be joining Luminary and are thrilled that they have so warmly embraced our vision for an unapologetically black feminist podcast. We're looking forward to this collaboration and joining so many other great original podcasts on the Luminary platform."
"It is said that every badass woman has a group chat that keeps her lit," Cottom noted in a statement to The Root. "The chat that lifts me up — and holds me down — is full of my Black feminist BFFs being honest about life, love, money, and culture. Hear to Slay is that group chat, set to ten. Like smart Black women everywhere, we are balancing self-care with hustling. Because of that, there is a little something for everyone. We take on the Democratic primary race in one breath and wonder why reality television can't get good wigs in the next. This show is about everything we love and everything we love to hate. I am beyond thrilled to be co-piloting this ship with my friend, the inimitable Roxane Gay, on Luminary."
Cottom is absolutely accurate in her assessment. Every badass woman does have said group chat. I know I do. The reinforcement I receive from my group of fellow badass women is akin to a Pavlovian WhatsApp, and I am grateful for it. I'm looking forward to receiving that lit-ness from two badass women and the squad of badass women they've chosen to slay with over the mic.
Hear to Slay debuts on the Luminary app on Tuesday, April 23. You can sign up for content now at luminarypodcasts.com.