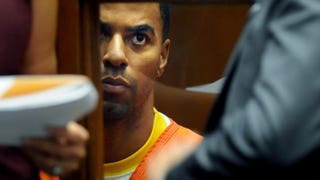 A Los Angeles judge has refused to release former NFL All-Pro safety Darren Sharper from jail.
Sharper, who has pleaded not guilty to charges that he raped and drugged two women last year, is awaiting trial in Los Angeles, the Associated Press reports. He was released earlier on $1 million bail before being charged with similar counts in Arizona.
Sharper's lawyers argued that since authorities in Arizona have said they won't seek his extradition, he should be freed again and kept under house arrest.
However, Los Angeles Superior Court Judge Renee Korn rejected that argument on Monday after prosecutors said the Arizona governor's office is preparing a warrant for Sharper's extradition, even though he will go on trial in Los Angeles first. An April 15 hearing was set, AP reports.
Read more at the Associated Press.