Michael Cohen, the Trump lawyer who paid porn actress Stormy Daniels $130,000 not to discuss her sordid affair with a human orange mass of mediocrity, reportedly complained to folks that the then-reality TV star never reimbursed him for the hush money he paid.

According to the Wall Street Journal, shortly before the president started hanging mud flaps on the White House, Cohen had the actress sign a nondisclosure agreement and paid the porn star out of his own funds to keep quiet about an affair she had with the president in 2006. Cohen claims that at the time, he wasn't able to get ahold of the president, so he paid her out of his own funds, which his bank noted as suspicious.
Here's how the Wall Street Journal explains how it went down:
[Cohen] wired the money to a lawyer for former actress Stephanie Clifford, known professionally as Stormy Daniels, from an account at First Republic Bank. The money was received on Oct. 27, 2016, 12 days before the presidential election, another person familiar with the matter said. It isn't clear when First Republic reported it to the government as suspicious.

Mr. Cohen said he missed two deadlines earlier that month to make the $130,000 payment to Ms. Clifford because he couldn't reach Mr. Trump in the hectic final days of the presidential campaign, the person said.
Cohen admitted to paying off Daniels last month. He didn't say what the money was for, but he added that the payment didn't break campaign-finance laws.
According to the Wall Street Journal, Cohen began complaining shortly after Donald Trump won the election about how "he had yet to be reimbursed for the payment to Ms. Clifford."
G/O Media may get a commission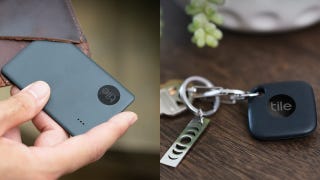 Up to 35% off
Tile Item Trackers
Here is what we know about this story: Trump absolutely, unequivocally had an affair with this woman, and his lawyer absolutely, unequivocally paid her off.
Cohen calls this story of him being upset about not being reimbursed "fake news," but those of us who didn't vote for 45 know better.