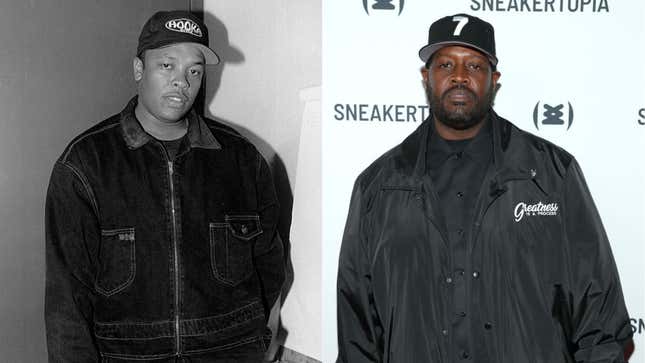 The Chronic by Dr. Dre is undoubtedly one of the most important and influential albums in the history of hip-hop. It's assuredly a classic album. But, not according to DJ Clark Kent.
Why Creators of HBO Max's South Side Chose To Focus On That Part of Chicago
In an interview with Angie Martinez on Warner Music Group's Iconic Records podcast series, the record producer discussed why Notorious B.I.G.'s debut studio album, Ready To Die, is such an important record in New York hip-hop.
He later mentioned other artists that have released classic albums, such as Slick Rick, A Tribe Called Quest, NWA, Ice Cube and Snoop Dogg. When Martinez mentioned Dr. Dre's The Chronic as a classic record, Kent started to give his take on what he thinks makes a classic album.
He said, "If you look at every album that you think is a classic album. Like the real classics, the NWA's, Ice Cube, Snoop Dogg's first album, A Tribe Called Quest joint, Slick Rick's album… Chronic. I can't even put The Chronic before I put Snoop Dogg's [first] album. Snoop Dogg's album is better than The Chronic. It definitely is. That's not even a question."
He later continued, "What I'm saying is, if you take a second and listen to all of those albums, Reasonable Doubt, Life After Death, Ready To Die, they're the same album. All of these albums do the same thing. They begin, they hold you in the middle, they hug you, and then they end. That's what classic albums do."
"But you gotta have great songs that make that thing happen. If you don't, you'll get one song that doesn't hit properly, you done took yourself out of the classic thing because if you can skip, you ain't got a classic. That's why I won't say The Chronic is a classic. Because I can skip RBX," said DJ Clark Kent.
To no surprise, this got hip-hop heads on social media pissed, including me, which forced the veteran producer to make a post saying that having an opinion does not make you a "hater" and that everyone has their own "preferences."
Why DJ Clark Kent is wrong
DJ Clark Kent has forgotten more about hip-hop than I'll ever remember. He's been a part of the culture years before I was even born and his opinion on anything to do with rap is to be respected.
But the claim that Dr. Dre's The Chronic is not a classic album is asinine.
Okay, you think Doggystyle is better than The Chronic, I disagree but can see the logic in that opinion. But saying that The Chronic is not a classic because of one feature is crazy.
While I agree, RBX's verse on "High Powered" is not good (it's really bad), it's not enough to take the album out of the classic category.
A classic album does not necessarily mean that it's perfect.
For example, DJ Clark Kent says Ready to Die is a classic. I agree, but there is one track on that album that I don't even have in my library, and even though it's an interlude, I will never listen to it again in my life. That track is "F*ck Me."
But, that doesn't diminish the album's importance to hip-hop.
I can already hear the detractors, "Well it doesn't count if it's an interlude." But, when I'm listening to good kid, M.A.A.D City, the interludes and skits only enhance my listening experience, not hurt it.
What makes a classic album?
This is an old and tired debate in the world of music. Everyone has their definition of what a classic is, so I might as well give mine.
A classic has to be one of two things. It has to be timeless, or it has to have a huge impact on the culture. Ideally, it's best if it's both.
For instance, NWA's Straight Outta Compton is not a timeless record. You listen to it and can tell that it was made 30 years ago. But the impact that it had on hip-hop and the entire music industry is still felt now. Not only did that album have records that are synonymous with protest music in the world today, but it also sparked the careers of legends such as Ice Cube, Dr. Dre and Eazy E. It put the previously disrespected West Coast hip-hop scene on the map.
I feel similarly about The Chronic. It is not a timeless record, it sounds like it was made in the 90s. But it's responsible for bringing the G-Funk sound to the mainstream, which is considered a staple of West Coast music and is still used by countless California rappers today including Kendrick Lamar, ScHoolboy Q, YG, Vince Staples and many others.
Like Straight Outta Compton, it launched the career of Snoop Dogg and made his debut studio album, Doggystyle, the most anticipated rap album of the decade.
So in short, no disrespect to DJ Clark Kent, he has the right to feel definitely about The Chronic, but he's just wrong.