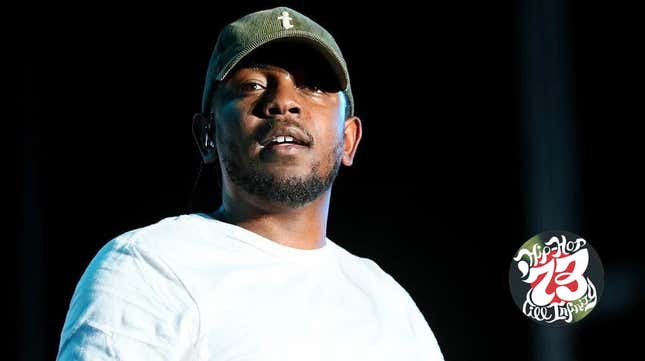 This story is part of our new Hip-Hop: '73 Till Infinity series, a celebration of the genre's 50th anniversary.

The year 2015 was an interesting time in my life. I was graduating high school, headed to college, and had just discovered a true passion for hip-hop. Growing up, I always enjoyed hip-hop and it was always popular among kids I grew up with, but I truly did not have a passion for it.
I listened for the sake of wanting to fit in, but my taste in rap did not go beyond what was hot on the radio. That changed when I started high school, the internet was becoming the main source of where the most talented young artists were popping and a new wave of MC talent was moving to the forefront.
Artists such as Kid Cudi, Wale, Tyler, the Creator, A$AP Rocky, Big Sean, Mac Miller, J. Cole and Kendrick Lamar were starting to take their internet fame into the real world, growing into some of the most popular young MCs.
Of that group, Kendrick Lamar was the most talented and had the most legendary hip-hop figure backing him, Dr. Dre.
His debut studio album, good kid, m.A.A.d city, was the most beloved hip-hop album of 2012 and was praised by young and veteran hip-hop listeners alike. His pen was sharp, his delivery was creative and his storytelling was impeccable.
Naturally, the expectations and hype for his next studio album were through the roof and fans wouldn't accept anything less than a "classic."
The response to To Pimp a Butterfly
Three years after the release of his debut studio album, Kendrick Lamar released his much-anticipated follow-up, To Pimp a Butterfly.
In retrospect, everyone looks back at the release of this project and thinks that everyone loved it immediately. But that wasn't what I necessarily experienced.
The first single, "i" was not what young hip-hop fans wanted. It was an upbeat positive song that felt more like a folk song than a rap song. His second single, "King Kunta," was a funky old-school hip-hop song that was a departure from his previous work, in fans' eyes.
I vividly remember going to school the day after the album was released and hearing my classmates calling the album "boring" and saying he was rapping too much. I understood why.

If you weren't familiar with artists and producers such as DJ Quik, Tha Dogg Pound, George Clinton, Thundercat, Madlib, Flying Lotus or Knxwledge, there was a likelihood that you did not enjoy the album, because K. Dot decided to do something so drastic and different sonically.

But for someone like me, who was just learning about those artists and starting to shift away from "mainstream" hip-hop and falling in love with backpack rap, I took an immediate liking to the album and quickly fell in love with the funk and jazzy sounds Kendrick was rapping over on the album.

Songs such as "Wesley's Theory," "Institutionalized," "Momma," "Complexion (A Zulu Love)," and "Mortal Man" became regulars in my music rotation and it was such a pleasure to hear a hip-hop album that sounded so funky, soulful and unique on a mainstream level. So why was this release so important?
It introduced a classic sound to a new generation of hip-hop fans

As I mentioned earlier, hip-hop which sounded like TPAB was not prevalent on a mainstream level at the time. If you were a veteran hip-hop listener, the sound was nothing new. California was littered with artists that used similar production during the 90s, such as Snoop Dogg, DJ Quik, Spice 1, Tha Dogg Pound and The D.O.C.
G-Funk was one of the most popular production styles in the genre during the peak of Death Row. But, in 2015 it was nothing more than a distant memory. Kendrick brought it back to the forefront in a way other artists of the time did not.
Kendrick voiced Black people's frustrations through his lyrics.
I would be a fool not to mention the cultural significance of this album. The album became a soundtrack for a racial movement. Kendrick's lyrics were a lens for listeners to see how Black people felt.
Professor Maurice Johnson, who uses hip-hop as a tool to discuss Black portrayals in the media, said this about TPAB: "The album was released during a moment of racial tension in the country as 18-year-old Michael Brown and 12-year-old Tamir Rice had recently lost their lives at the hands of law enforcement."
He continued, "These frustrations were voiced through songs such as "Alright," "The Blacker The Berry" and a hypothetical conversation with the hip-hop icon Tupac Shakur at the conclusion of the album, which included excerpts of interviews with the late artist/activist."
While I can't get into every nuance, message and theme Kendrick meant to be heard in this album, I can acknowledge that it was a benchmark in hip-hop that set a standard for Kendrick's peers and served as a piece of musical excellence for his listeners.
Eight years later, it's still just relevant and important as it was in 2015.