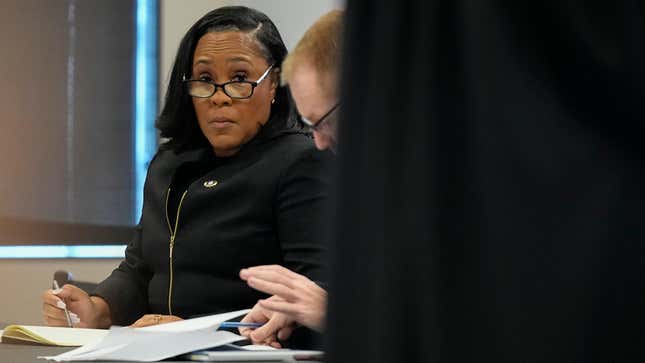 Fulton County, Ga., District Attorney Fani Willis is again the target of vile hate mail and threats due over her two-and-a-half-year investigation into Donald Trump's alleged attempts to steal the 2020 presidential election—and it's only getting worse.

Willis, who is expected to announce a decision on criminal charges against the ex-prez any day now, was on the receiving end of an email last week calling her a "Jim Crow Democrat whore," among other insults, according to The Atlanta Journal-Constitution. Willis shared that the message was "pretty typical" of what her office has gotten. "I am also aware of some equally ignorant voice mails coming in both to the county customer service and my office. I expect to see many more over the next 30 days," she stated.

The threats echoed violent rhetoric from the former president and his followers that goes back to the early days Willis' grand jury investigation. Back then, the Root told you that Willis asked for help from the FBI to keep her safe as she and a special grand jury continued their work.
My Hip-Hop Story: Cedric The Entertainer On Jay-Z and His Indisputable Role In Shaping The Genre's Culture
She expects that the threats will only get worse, as two regular grand juries were sworn in last month. In addition, one of them may hear evidence presented by Willis. As precaution, orange barricades have been assembles around part of the Fulton County courthouse. Last week, Willis received an email with a subject line that said "Fani Willis = Corrupt N*****."
Fulton County officials called the threats against Willis "reprehensible" and said security will be increased and that some staff will be allowed to work remotely. However, Willis intends on still doing her job.

s The Root previously reported, Monday (July 31) was the beginning of the three-week window that Willis referred to for a potential decision on whether to charge Trump for this alleged crime.
The potential charges in Georgia are only the latest—and not even the most serious—among Trump's various civil and criminal cases pending. Last Thursday, federal prosecutors on Trump's documents case added additional felony charges against Trump and two of his Mar-a-Lago employees. This means that the former President is currently facing 40 federal criminal counts.