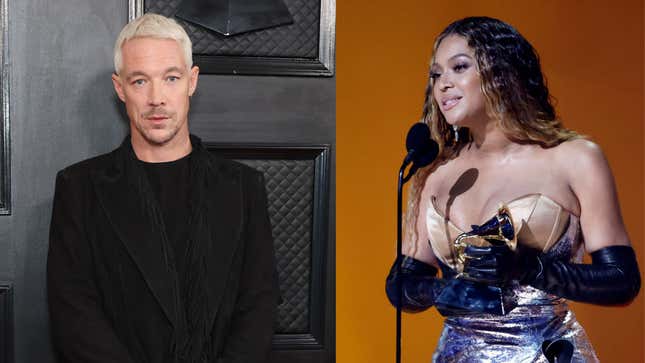 Like many in the Black community, all were ecstatic when Beyoncé took home the Best Dance/Electronic Album award at the 2023 Grammys for her hugely popular 2022 album Renaissance. It helped her become the most-awarded artist in the history of the recording academy and the first Black woman to win the award.
Music Producer & Beyoncé Collaborator, Dixson, Plays That's So Random
So if anyone plans on criticizing our Queen, best believe you'll feel the ire of the BeyHive and the entire Black community.
After the 2023 Grammys, internet detectives speculated that Diplo, a popular electronic and dance DJ, made some negative comments about Queen Bey as she was accepting the award for her beloved album. Lip readers on social media guessed that the DJ said, "They bought that," seemingly taking shots at Beyoncé for winning the award.
But, over the weekend, the popular producer cleared up any speculation that he was throwing shade at Queen Bey and even went as far as to say that her album is "legendary."
To clear his name, Diplo reached out to the often-controversial Hollywood Unlocked to clarify what he said while Beyoncé was accepting her award. In messages he sent to the gossip site on Instagram, screenshots show Diplo clarifying that he said, "I'm glad to be a part of this," after the "BREAK MY SOUL" artist won a Grammy.
Other screenshots show Diplo saying, "Lol we talking about lip reading."
In order to fully clear his name, Diplo directed the gossip site to an Instagram post he made days after the Grammys where he wrote, "Beyoncé['s] album was legendary (I'm a Beyoncé stan. Remember I produced some classic dance songs for her, like 'Til the End of Time' and 'Girls Run the World')."

He continued, "What's important to understand was that her intention was 100 percent. She did the work, found the real producers, and she made classics. So, she deserves her flowers, and when she won, I was just proud to see my nomination on the screen in the huge arena."
For Diplo's sake, I'm thankful he cleared up the comments he made about Beyoncé and even went as far as to shower Queen Bey with love and admiration. Lord knows if he didn't, the BeyHive would have been ready to pounce on Diplo and anyone who's a fan of his music.