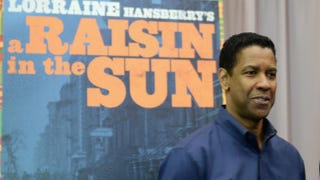 Now that the kids have flown the nest, Denzel Washington wants to get back to his stage roots.
The Associated Press notes that the Tony- and Oscar-winning actor, who is set to portray Walter Lee Younger in Lorraine Hansberry's classic play A Raisin in the Sun, can now handle the hectic Broadway schedule.
"Up until nine years ago, I hadn't been here in 15 years, from 1990 until 2005. Basically, that was because of raising my kids, my wife and I," Washington told AP Tuesday.
He added: "It's impossible to commute from California to New York, or New York to California doing an eight-show week schedule. So once they got old enough, I could start coming back."
In 2005, Washington came back to Broadway to play Brutus in Julius Caesar. He last appeared on Broadway in the 2010 revival of August Wilson's Fences, for which he picked up a best actor Tony, AP reports.
Read more at Associated Press.