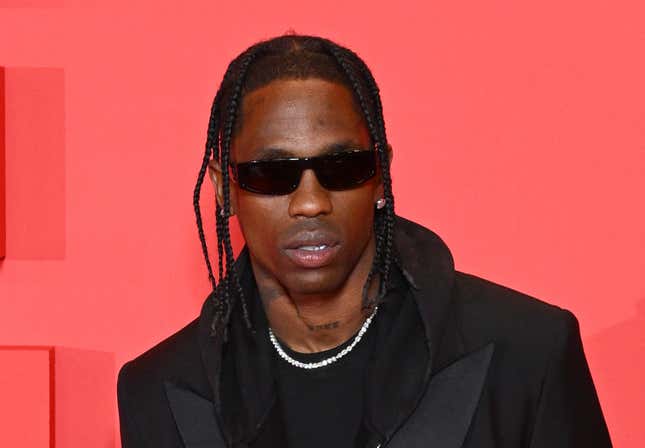 When an artist tries to come back from a major scandal, they can try one of two very familiar tactics: Either they slowly release new music and quietly work their way back into the spotlight, or they go balls to the wall and jump back in full force. The first is a more reliable, less controversial way to go. The second is more of a big risk, big reward state of mind. If you've been paying attention to Travis Scott's promotional rollout for his new album UTOPIA, you know he's absolutely chosen the second. Well, it looks like he's not going to get the reward he was looking for.
Comedian London Hughes Talks New Book, Parents Watching Her Very Sexual Comedy, & Beyoncé
Scott was set to officially launch UTOPIA with a big flashy performance at the Pyramids of Giza in Egypt. If this seems like a ridiculous, logistically complicated idea, that's because it is. It didn't take long for Live Nation Middle East to figure this out and cancel the event.
"We regret to inform you that the UTOPIA show, originally scheduled for July 28 at the Pyramids of Giza in Egypt is cancelled," the concert promoter said in a statement. "Unfortunately, despite highest efforts, complex production issues meant that the show could not be constructed in the desert. We understand that this news is disappointing and not the outcome any of us desired."
Considering that the rapper is still dealing with the fallout from the 2021 Astroworld Festival tragedy, it's not surprising that Egyptian authorities wouldn't be excited about Scott making his comeback at one of their most sacred landmarks. And let's be honest: performing at the pyramids should be reserved for artists with a much higher stature than Travis Scott. That's not shade, it's just facts. He's not Beyoncé, U2 or Paul McCartney.
Additionally, though he won't be held criminally responsible, Scott is still facing multiple civil lawsuits stemming from the incident. A dangerous crowd surge resulted in the death of 10 people. Per the medical examiner, the cause of death was "'compression asphyxia,' describing a scenario where 'the pressure from the large crowd at the event was so great that it quickly squeezed all the air from the lungs of the 10 victims.'"
According to Vulture, this wild UTOPIA journey started off weird back in May when a mysterious briefcase with "UTOPIA" on it appeared with Scott's bodyguard. Sure, fans were curious, but it never had a real payoff, so what was the point? The first single, "K-POP," features The Weeknd and Bad Bunny, so it got some buzz, but he was overshadowed by the other artists.
The crazy thing about all this is that UTOPIA could've been a hit without all the hoopla. If he'd just focused on the fact that it includes contributions from big names like Beyoncé, Kid Cudi, SZA, 21 Savage, Future and Dave Chappelle, it would've been about a musical comeback and not all this other nonsense. Plus, Drake is giving Scott plenty of free attention now that the world has discovered his Pusha T diss on "Meltdown."
On his verse, the Toronto native also seemingly takes a shot at Pharell Williams' new gig as Louis Vuitton's menswear creative director, saying, "Man, fuck all that spinning the narrative shit, I melt down the chains that I bought from your boss, Give a fuck about all of that heritage shit, Since V not around the members done hung up the Louis, They not even wearing that shit."
And because he never misses a chance to brag about himself, Drake also used "Meltdown's" release to seemingly confirm that he was the one who bought Tupac's $1 million crown ring at a Sotheby's auction. On Friday, he posted a photo on Instagram Stories of himself wearing the ring with the caption, "UTOPIA OUT NOW MELTDOWN @travisscott."
I understand that Travis probably wants to put as much distance as possible between himself and the Astroworld tragedy, but it feels like the universe is telling him to calm down and focus on the music. If people aren't into the music, none of the other nonsense matters.