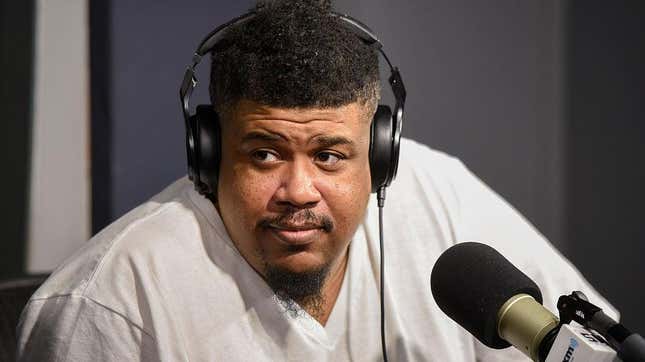 Trugoy the Dove, one of the founding members of the legendary hip-hop group De La Soul, died on Sunday at 54. A cause of death has not been revealed, but Trugoy had been open about his diagnosis of congestive heart failure.
Abbott Elementary's Emmy Award-Winning Sheryl Lee Ralph Plays That's So Random
Although he's not the most notable rap figure, Trugoy is a of the founding members of one of the most influential groups in hip-hop history. Born David Jude Jolicoeur, he formed the group while in high school in Long Island N.Y. along with fellow group members Posdnuos and Maseo.
They released their debut album, 3 Feet High and Rising, a year later. The 1989 album was beloved by fans of every genre. While the album has many favorite tracks, none was more popular than their classic record, "Me Myself and I."
Their debut album would be their most successful one, becoming their only album to be certified platinum for selling one million copies.
The group, which was known for its jazzy influences, was also part of the Native Tongues collective, a large posse of hip-hop artists who were known for their Afrocentric and positive lyrics. The collective also included A Tribe Called Quest, Queen Latifah, The Jungle Brothers, Monie Love and Chi-Ali.
De La Soul would go on to release a total of eight studio albums.
While many hip-hop heads give credit to A Tribe Called Quest for popularizing a more jazzy style of hip-hop, De La Soul was the first group to truly do it on a mainstream level, and do it successfully.
Even now, many of the most popular artists in rap consider them as a major influence, including Pharrell, Most Def, Tyler, the Creator and many others.
Professor Maurice Johnson, a teaches who uses hip-hop as a tool to discuss Black portrayals in the media, said this about Trugoy: "De La Soul made a pivotal contribution to the sonic evolution of Hip Hop music. This is a tremendous loss for the culture and and I'm hopeful that when we think about Trugoy the Dove, we think about that time period when Hip Hop was fun."
Thankfully, the group just put many of its most revered albums on streaming services for fans to enjoy. For those who are unfamiliar with their work, I highly recommend that you listen to their incredible discography and appreciate the greatness that was Trugoy the Dove, and the rest of De La Soul.