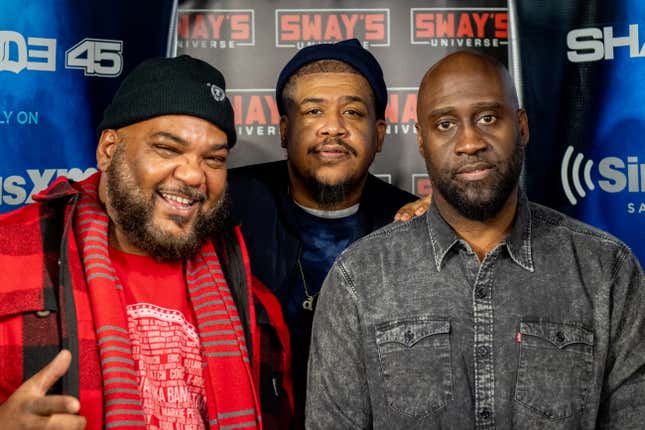 One of hip-hop's most influential acts will finally have their music readily available on streaming services. After a years-long legal battle, De La Soul's first six albums are set to start streaming on March 3. Variety reports that the resolution comes after the group's work was recently sold to Reservoir Media as part of its purchase of the Tommy Boy Records catalog. Reservoir is using its Chrysalis Records for distribution. On Tuesday, the group made the announcement in a statement.

Handmade Eyelashes by Black-Owned Minx + Mane Is Our Swag of the Week
"The Reservoir and Chrysalis teams have worked with De La Soul, and their record label, AOI, to bring their music to digital streaming services. Reservoir is pleased to share that De La Soul's first six albums, 3 Feet High and Rising (1989), De La Soul Is Dead (1991), Buhloone Mindstate (1993), Stakes Is High (1996), Art Official Intelligence: Mosaic Thump (2000), and AOI: Bionix (2001), will be available to fans everywhere March 3, 2023, on the 34th anniversary of the release of their debut album, 3 Feet High and Rising."
Back in the early days of rap, artists weren't great about getting proper clearances for samples—meaning they often didn't. After classic R&B writers and singers battled to get their fair share of credit and royalties, things became more regulated. With many of De La Soul's early recordings featuring uncleared samples, there's been a lot of legal issues around getting their music on streaming platforms. The group has also found itself in a long battle with former label Tommy Boy, as they claimed in 2019 that their contract with the company would only offer them 10 percent of streaming revenue. But now, with their masters back in hand and the backing of Reservoir, the rap legends are finally ready to once again take over hip-hop. As part of the big release, their single, "The Magic Number," hits streaming on Jan. 13.
"We can't believe this day is finally here, and we are excited to be able to share our music with fans, old and new," De La Soul said in a statement. "Golnar, Rell, Faith and the Reservoir team have been great partners in this entire process. We're grateful that our relationship with them all has enabled this to happen."
Listen kids, if you're not familiar with classics like "Me Myself and I," "Buddy," "Ring Ring Ring (Ha Ha Hey)" or "A Roller Skating Jam Named 'Saturdays,'" prepare to have your musical eyes opened to a fresh musicality that is distinctly De La Soul. I'm sure if we all work together we can get the group back at the top of the charts. Your money is better spent on downloading De La Soul than it is on whatever disposable Tik Tok artist you were going to listen to.