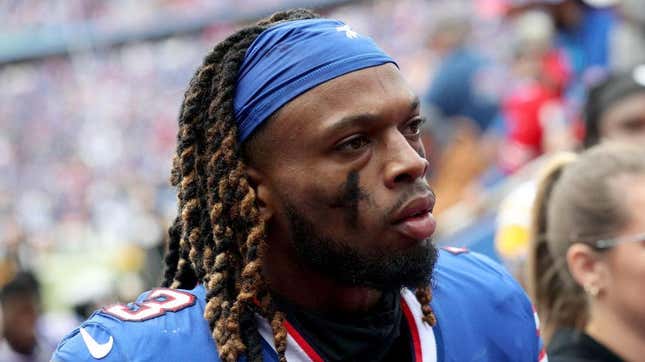 A miracle is defined as an extraordinary event manifesting divine intervention in human affairs, according to Merriam-Webster. That's exactly how I would describe Damar Hamlin's journey in the past four months.
Herschel Walker Supporters Are Unfazed By His BS
Nearly all of the country saw the Buffalo Bills' safety collapse in a Monday Night Football game against the Cincinnati Bengals in January, and many wondered if he would even live to tell the story, let alone play another down in the NFL.
But more than three months after that fateful night, when he went into cardiac arrest, it was announced that the 25-year-old safety has been cleared to play the sport he grew up loving. In a press conference, the second-year NFL player said, "Over these last few months I've been on a journey and I've seen some of the top professionals in this country."
He later continued, "Their answers to me were all the same. This event was life-changing, but it's not the end of my story. I'm here to announce that I plan on making a comeback to the NFL."
Bills' general manager Brandon Beane confirmed Hamlin's comments when he stepped to the podium, saying Hamlin "has seen three additional specialists since Friday and they are all in lockstep that he is cleared to resume full activity.
Despite being sidelined from football during the closing weeks of the NFL season, Hamlin has stayed active ever since he was released from the hospital and has been on a mission to make sure that his story is known to all who encounter him and to ensure that it never happens again.
Weeks ago, Hamlin attended an event on Capitol Hill to speak to lawmakers about the importance of having automated external defibrillators (AEDs) in schools to assist with young student-athletes who may have undetected heart conditions.
Joined by other political figures, Hamlin was there to discuss the Access to AEDs Act, a bill that would provide schools with the money to buy AEDs, improve CPR training and establish response plans in case of a cardiac emergency.