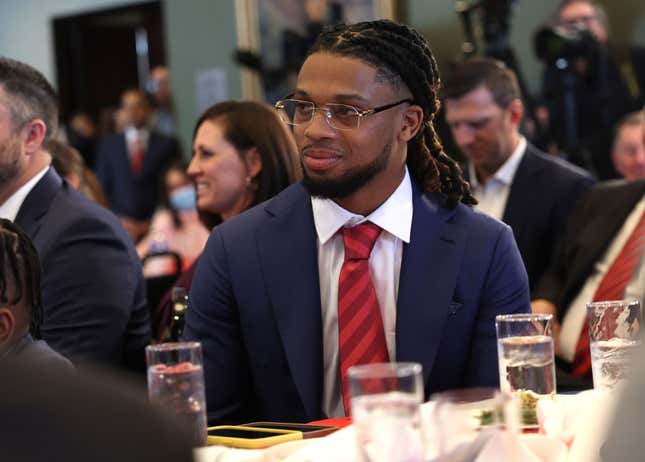 When Damar Hamlin suffered a cardiac arrest during a Monday Night Football game, the whole country watched in shock as everyone, including players on the field, wondered if the Buffalo Bills' safety would ever wake up again.
What It Really Means To "Build Up Immunity" Against COVID-19
Thankfully he did, and now he's using his influence to help others who may go through the same experience.
On Wednesday, Hamlin attended an event on Capitol Hill to speak to lawmakers about the importance of having automated external defibrillators (AEDs) in schools to assist with young student-athletes who may have undetected heart conditions.
While on Capitol Hill, Hamlin said, "Sudden cardiac arrest happens to more than 7,000 kids under the age of 18 every year in our country – 7,000 kids every year. The majority of the kids impacted are student-athletes, and research shows that 1 in every 300 youth has an undetected heart condition that puts them at risk. For schools that have AEDs, the survival rate for the children from sudden cardiac arrest is seven times higher."
According to CNN, the 25-year-old safety was joined by Reps. Sheila Cherfilus-McCormick, D-Fla., and Bill Posey, R-Fla to discuss the Access to AEDs Act, a bill that would provide schools with the money to buy AEDs, improve CPR training and establish response plans in case of a cardiac emergency.
Part of the reason Hamlin survived his Monday Night Football collapse is the use of CPR and a defibrillator on the field. If those two measures were not taken, who knows where the young NFL player would be right now?
Since he's been released from the hospital, Damar has been on a mission to make sure that his story is known to all who encounter him and to ensure that it never happens again.
In February, Hamlin launched the #3forHeart CPR Challenge to teach people about the importance of CPR and how it can save lives.
During the NFL Honors in February, the medical team and training staff that helped save Hamlin's life were recognized for their amazing effort. He later joined them on stage and discussed how his life has a new purpose after his almost life-threatening experience.
"Every day I am amazed that my experiences could encourage so many others across the country and even across the world," Hamlin said. "Encourage to pray, encourage to spread love, and encourage to keep fighting no matter the circumstances. Sudden cardiac arrest was nothing I would have ever chosen to be a part of my story, but that's because sometimes our own visions are too small even when we think we are seeing the bigger picture. My vision was about playing in the NFL and being the best player that I could be, but God's plan was to have a purpose greater than any game in this world."