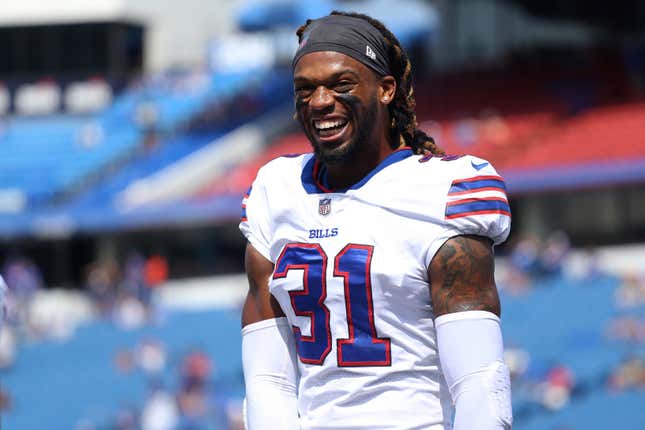 On Wednesday, The Washington Post reported that Damar Hamlin was discharged from a Buffalo hospital. The Buffalo Bills shared the news on their Twitter account just nine days after Hamlin went into cardiac arrest during an NFL game.
Stephen A. Smith's NFL Playoffs Predictions
Hamlin, who is a 24-year-old Bills safety, collapsed after making a tackle during the Jan. 2 "Monday Night Football" game against the Cincinnati Bengals. He was first listed in critical condition but has since made a surprising recovery.
On Monday, Hamlin left the University of Cincinnati Medical Center and went to Buffalo General Medical Center. On Wednesday, he was finally discharged. Per the Buffalo Bills Twitter page:

"Damar Hamlin has been discharged from Buffalo General Medical Center/Gates Vascular Institute, a Kaleida Health facility in Buffalo, NY. Hamlin was admitted on Monday and went through a comprehensive medical evaluation as well as a series of cardiac, neurological and vascular testing on Tuesday. Jamie Nadler, MD, critical care physician and Chief Quality Officer at Kaleida Health, and the care team lead for Hamlin said, "We have completed a series of tests and evaluations, and in consultation with the team physicians, we are confident that Damar can be safely discharged to continue his rehabilitation at home and with the Bills."

Hamlin has been using Twitter to keep his fans updated on his health. Just yesterday, he wrote: "Not home quite just yet. Still doing & passing a bunch of test. Special thank-you to Buffalo General it's been nothing but love since arrival. Keep me in y'all prayers please."
He has also expressed gratitude for the support he's received on Instagram: "When you put real love out into the world it comes back to you 3X's as much. The love has been overwhelming, but I'm thankful for every single person that prayed for me and reached out. We brung the world back together behind this. If you know me you know this only gone make me stronger. On a long road keep praying for me!"