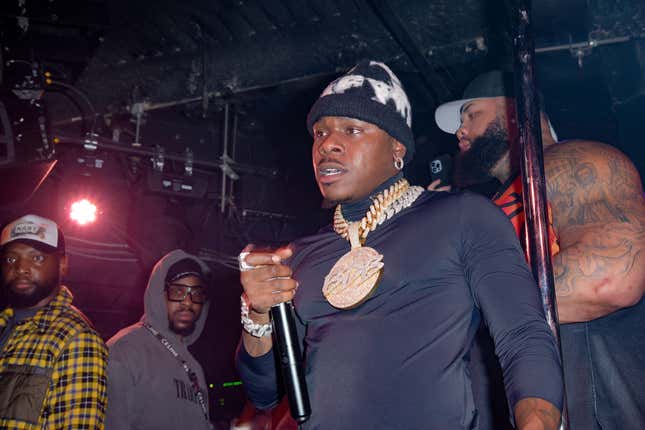 Rapper DaBaby is reflecting on his previous homophobic comments at the 2021 Rolling Loud Miami festival and the fallout that came after it, admitting that he could've handled the situation better.
This Juneteenth We Revisit The Anderson .Paak BLM Track "Lockdown"
He said as much during the latest episode of The Shop Uninterrupted over the weekend. When asked by co-host Maverick Carter if, looking back, he could've handled things differently, the Blame It On Baby rapper said: "Absolutely. That's what came out my own mouth and said as of late, not even as of late, I would maybe handled it the way he handled it. 'I apologized, I didn't mean to'—because I'm this type of person."
He continued: "I'm gonna fight to the tooth and nail, like if I, you know what I mean? My character and my intentions–that's something I am never going to let you make me out, I'm not a bad person. I'm unfaltering on that."
As previously reported by The Root, during his 2021 Rolling Loud Miami appearance, the "Rockstar" rapper made a myriad of distasteful, homophobic and sexist comments. In the immediate aftermath, he stayed on the defensive before eventually apologizing (via a post to Instagram, even though he deleted it less than 24 hours later) and meeting with Black HIV advocates. There, they all discussed HIV history and education, as well as the groups' work in Black, LGBTQ and faith communities. This, however, didn't stop him from losing endorsements or performance opportunities.
Since then, DaBaby has been laying relatively low, though it appears he may be trying to ease his way back into the spotlight now that the dust has settled.
The full interview with DaBaby, Damson Idris, artist Hebru Brantley, gymnast Katelyn Ohashi, and marketing executive Paul Rivera, is available to watch now on Uninterrupted's official YouTube channel.