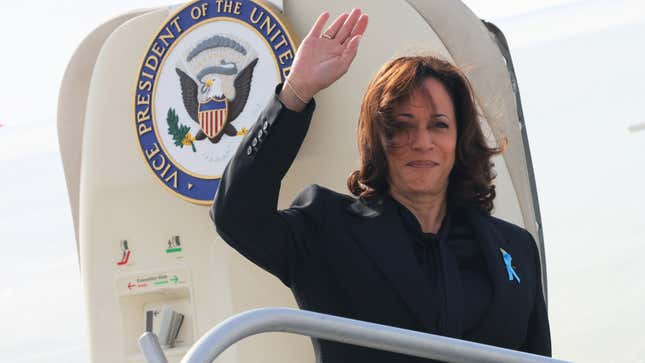 As we continue to gear up for the 2024 presidential election, critics of the Biden Administration continue to narrow their sights on Vice President Kamala Harris. She has received the lowest net negative rating in history, which just demonstrates the unique challenge she faces as the first woman and first Black vice president.
Naturally, that misogynoir has seeped into the conversation surrounding who will become this country's next leader. On Wednesday (September 13), Politico chose to highlight the voices calling for Harris to be replaced as Biden's running mate this upcoming election cycle.
Even though there is no data to substantiate his claims, David Ignatius at The Washington Post columnist suggests that replacing Harris with Los Angeles Mayor Karen Bass or Commerce Secretary Gina Raimondo would make voters feel more comfortable supporting Biden.
Ignatius believes that due to Biden's age—he would be 82 at the start of a second term—the American public are prepping themselves for a suitable predecessor. The writer focuses on the fact that Harris is less popular than Biden according to polling website FiveThirtyEight.
New York Magazine's Eric Levitz's line of reasoning is similar to Ignatius and he also suggests replacements for Harris, including Sen. Raphael Warnock (D-Ga.), Sen. Tammy Duckworth (D-Ill.) and Rep. Lauren Underwood (D-Ill.).
"It is risky to switch out the first Black and female vice-president for someone else," Levitz writes. "But it is also risky to saddle an 81-year-old nominee with an exceptionally unpopular running mate who — if all goes well — will be all but guaranteed the party's nomination in 2028."

Harris also apparently lacks "appeal" according to naysayers , but these comments are rooted in opinion as opposed to fact. In reality, Harris has executed the role as 49th Vice President of the United States exceptionally well. Detractors have continuously "joked" that Harris has been largely inactive during her tenure, but the opposite is true.
During her time in the White House, Harris has: encouraged the Biden Administration to dedicate billions of dollars in funding for HBCUs, been an overt advocate of women's rights, allocated billions to fund Black businesses, confirmed all the nominees that Biden has appointed, called for the passage of the John Lewis Voting Rights Advancement Act and the Freedom to Vote Act and supported debt-free college.
She in one of the most effective vice presidents of all time and as a Black woman—folks can't stand that. The continued calls for her dismissal will continue to fall on deaf ears because Kamala isn't going anywhere anytime soon.