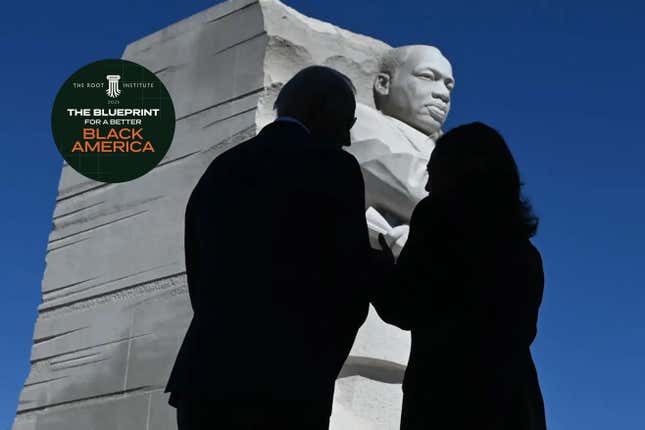 This article is part of The Root Institute 2023 pre-event coverage.
Sixty years ago today, Dr. Martin Luther King, Jr. outlined his dream for America. The motivation for his message – "we've come to our nation's capital to cash a check" – was as much economic as it was ethical. After all, the March on Washington was for both jobs and freedom.

Idris Elba Is Back in, Luther: The Fallen, Sun Our TV Pick This Week
Those both came slowly over the ensuing decades, until when under the previous Administration, our nation reversed course. From the top down, discrimination went unchecked, diversity was deprioritized, divisions were deepended, and decency was discarded along with basic rights and freedoms.
When Joe Biden decided to run for president, he did so to restore the soul of our nation, rebuild the economy from the bottom up and the middle out, and unite our divided country. In that platform, we see the essence of Dr. King's dream of a nation lifted "from the quicksands of racial injustice to the solid rock of brotherhood." Over the past two and a half years, that dream has guided the work of the Biden-Harris Administration and set our nation – in the words of Dr. King – on the "sunlit path of racial justice."
During his sermon at Ebenezer Baptist Church earlier this year, President Biden defined the soul of the nation as being "embodied in the sacred proposition that we're all created equal in the image of God…a sacred proposition [Dr. King] invoked on that day in 1963 when he told my generation about his dream." To make that sacred proposition real, the Biden-Harris Administration has made advancing equity a government-wide priority, invested billions of dollars to undo generations of environmental racism, taken steps to help our criminal justice system live up to its name, and made Black maternal health a national priority.
The President's approach to rebuilding the economy proves Dr. King was right when he refused to believe that there are "insufficient funds in the great vaults of opportunity of this nation." The President and Vice President set out to build an economy that provides opportunity for all. Their Administration has invested over $7 billion in HBCUs and is making generational investments in climate and infrastructure projects, manufacturing, minority-owned businesses, and the community banks that help them grow. As a result, Black unemployment is at a record low, Black entrepreneurs are starting businesses at the fastest rate in over 25 years, and historically underinvested communities across our nation are being transformed by the inflow of capital they have been denied for far too long.
As President Biden works to unite our fractured nation, he knows – as Dr. King told the crowd on the National Mall sixty years ago – that all of our destinies are intertwined. That is why he closed his sermon at Ebenezer by stating, "We go forward, we go together." It is challenging to unite a nation via policymaking. However, the President and Vice President have worked across the aisle to pass bipartisan bills that benefit all Americans. That includes the first meaningful gun control legislation in thirty years, which has already begun to protect Black communities disproportionately impacted by violence.
Today, as the President and Vice President meet with the family of Dr. King in the Oval Office, they do so in the presence of the bust of Dr. King, one of President Biden's greatest heroes growing up. May his spirit, his legacy, and his dream continue to guide the work of the Biden-Harris Administration as they seek to heed Dr. King's call to "make justice a reality for all of God's children."
Gevin Reynolds is a former speechwriter to Vice President Kamala Harris. He is a first-year law student at Yale University.