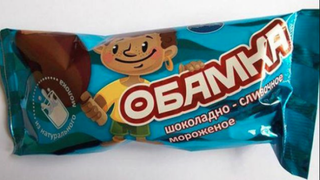 A Russian ice cream company has started selling frozen chocolate ice cream bars called Obamka, or "Little Obama."
The outside packaging shows a little brown-skinned boy wearing a yellow shirt and a hoop earring and holding an ice cream, the Moscow Times reports.
Despite obvious tension between President Barack Obama and Russian President Vladimir Putin, Slavitsa, the company that makes the bars, which went on sale in April, insists that there are no racial or political undertones.
"With different flavors and glazes, the ice cream symbolizes the main races of people on our planet," the company said in a statement viewed by Reuters, also noting that the picture of the boy on the wrapper had been inspired by a Soviet film. "Ice cream names need to be memorable. For those with a rich imagination, various associations might arise, but this product is for children and is a long way from politics."
That sentiment was echoed by Rasil Mustafin, deputy development director at the Slavitsa ice cream factory. "There's no political underpinning. We have no intention to offend anyone," Mustafin told the Times. "Someone at the factory came up with the idea."
A U.S. official, who didn't want to give his name to Reuters, told the news service that whether the intention was harmless, the product naming was part of a disturbing trend of anti-Americanism.
"While I haven't seen this particular product for sale, we are disappointed by the media-driven anti-Americanism that has become so prevalent in Russia over the past few years, particularly when it takes on a discriminatory or racist bent," the official said.
Read more at the Moscow Times and Reuters.