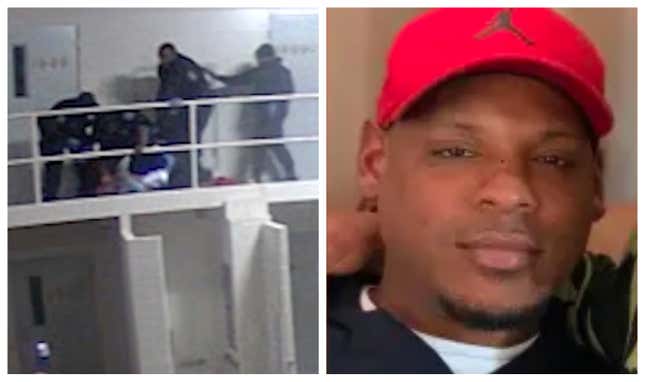 A Clayton County, Ga. grand jury chose not to indict six former sheriff's deputies involved in the death of a jail inmate last year, per a CNN report. However, the medical examiner's office ruled the man's death a homicide. So, if the cops didn't kill him… who did?

Courtney B. Vance in Heist 88 Is Our Black TV Pick of the Week
In November 2022, Terry Lee Thurmond was arrested for criminal trespassing at the airport after trying to bypass security without a ticket. Just a day atfer being held in Clayton County jail, he wound up dead. Surveillance footage from that day showed sheriff's deputies trying to stop Thurmond from falling from the jail's second floor. After pulling him back onto the walkway, the deputies are seen struggling with Thurmond as he appears to try and slip through the banister once again. In another clip, the deputies are seen pressing him into the platform. Then, the footage jumps to a deputy holding a flashlight above him while a first responder performs CPR.
Turns out Thurmond wasn't provided aid until 12 minutes after his last reported movement.
Read more from The Atlanta Journal Constitution:
During the struggle, the jailers restrained him by "placing hands, knees and their weight" on him "while he was laying face down for about 10-15 minutes," the Medical Examiner's Office report says. Minutes later, according to the report, Thurmond was found to be unresponsive. A nurse sought to revive him with chest compressions.

Thurmond — who had a history of bipolar, paranoid schizophrenia and hypertension — was taken to a hospital, where he was pronounced dead, the report says. Surveillance video from inside the jail helped the Medical Examiner's Office determine the manner of Thurmond's death was homicide, said Brian Byars, the office's director.

"Ultimately, he would have not died that night without that altercation," Byars told The Atlanta Journal-Constitution. "That is the reason we ruled it a homicide."
An attorney for Thurmond's family said they are in shock that the video footage wasn't convincing enough that the officers deserve charges, via FOX5 Atlanta. They may not receive criminal accountability but the six deputies were terminated following the incident.
Thurmond's family is seeking a civil lawsuit related to the incident to ring an alarm about the abuse of detainees.
"These jails are pre-detention centers. These are facilities that are supposed to hold citizens that have been accused but are not convicted of crimes yet. These are innocent people under the law," attorney Thomas Reynolds said via FOX5.