When herstory reflects on the year 2014, the many ways in which black women used their social media influence to address pivotal issues will be front and center.
In the tradition of iconic feminist scholar Audre Lorde, the year 2014 found black women positioning self-preservation as an act of political warfare on both individual and institutional levels. Whether addressing intraracial domestic violence and the perpetuation of rape culture or the pervasiveness of street harassment, negative media depictions and political marginalization, black women were not followers on social media; they were and remain leaders.
Among those leaders is Kimberlé Crenshaw, a law professor at Columbia University and founder of the African American Policy Forum. Crenshaw spearheaded the #WhyWeCantWait movement to protest the exclusion of women and girls of color from President Barack Obama's My Brother's Keeper initiative. Her refusal to allow the erasure of black women from conversations on dismantling structural racism was met with wide criticism from many in the African-American community who attributed #WhyWeCantWait to feminists run amok—but that didn't stop the AAPF.
Organizers launched a social media blitz, drafting a letter to President Obama that was signed by more than 1,000 women—including writer Alice Walker, actress Rosario Dawson and legendary activist Angela Davis. Activists highlighted their assertion that President Obama outsourced concern for black women and girls to his staff, as opposed to including them in his strongest racial initiative to date. The flawed and sexist logic that positions the empowerment of black women as adjacent or secondary to that of black men is one the AAPF continues to challenge on social media and beyond.
Sil Lai Abrams' RedefiningHERStory has taken her work as founder and CEO of Truth in Reality from the Twittersphere to the campuses of Grambling State University and Howard University. Determined to situate what some consider to be "guilty pleasure" reality television within this country's tradition of dehumanizing black women, she has used social media to protest the narrative that black women's realities can be defined by dysfunctional entertainment. Abrams interrupts VH1's programming each Monday with a Twitter chat that serves to provide an alternative dialogue that runs parallel to viewers' live tweets during the show.
G/O Media may get a commission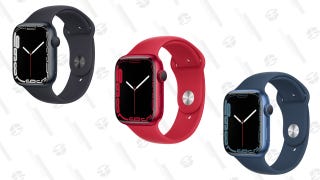 Up To $45 Off
Apple Watch Series 7
Author and activist Feminista Jones (No. 59 on The Root 100 list this year) has used her powerful voice to mobilize her diverse social media following behind #YouOKSis, a digital movement to raise awareness about the harassment that women face just trying to navigate public spaces. As more and more women shared their stories, many were cyberattacked by men who accused them of being in bed with the white supremacist power structure that victimizes black men through incarceration and police brutality.
Despite these attempts at shaming black women into silence, black women continued to speak out, eventually bringing street harassment to the forefront of the national consciousness.
And it didn't stop there.
Beverly Gooden created the #WhyIStayed hashtag to combat the victim blaming that emerged in the wake of the news that former Baltimore Ravens running back Ray Rice had viciously assaulted his then-fiancee, now-wife, Janay Rice, in an elevator in the now-defunct Revel Casino in Atlantic City, N.J. Keeping the spotlight on domestic violence forced the NFL to take action—suspending Rice—and to change its domestic violence policy.
Prior to that, black women appalled by D.L. Hughley's blatant disrespect of domestic violence victim Tanee McCall-Short banded together through social media and a Change.org petition. The pushback forced the comedian to apologize for his words, acknowledge the severity of domestic violence and dedicate a segment of his show to discussing the issue.
Conversations on social media about rape culture, led by black women such as writer and political analyst Zerlina Maxwell (No. 85 on The Root 100 list for 2014), particularly as it manifests in black communities, created an environment intolerant of slut shaming and victim blaming. This shift in discourse led to the resignation of Lincoln University President Robert R. Jennings when his dangerous statements suggesting that some women not only are responsible for their own sexual assaults but also lie about them went viral.
When 16-year-old Jada was sexually assaulted at a party in Houston, she faced intense bullying on social media as images of her unconscious, naked body went viral. Although the story seemed to warrant only a passing mention in mainstream media, black women on social media rallied around the #IAmJada hashtag, which signal-boosted her story and refused to let it die. Because of Jada's own tenacity and refusal to be shamed into silence on social media, two men were recently arrested for their alleged roles in her assault.
Black women were the change agents at the forefront and heart of these digital protests and more. Although critics have often derided "hashtag activism" as inauthentic and ineffective, this year black women on social media proved them wrong. Hashtags have led to tangible change in communities, and the implications of what that means for the future of activism are far-reaching.
As 2014 draws to a close, the extrajudicial killings of black people have continued to occur seemingly without pause, and a burgeoning human rights movement continues to strengthen and expand in scope.
Protesters have also rejected the playbook that prioritizes the lives of straight black men by default. When they say that #BlackLivesMatter, a hashtag created by three black queer women—Patrisse Cullors, Opal Tometi and Alicia Garza—they mean that all black lives matter. This includes the lives of black transgender and cisgender women—such as Deshawnda "Tata" Sanchez, Nizah Morris, Aura Rosser and Tanesha Anderson—and the rape victims of Officer Daniel Holtzclaw.
This centering of black women's narratives in the fight against state-sanctioned police brutality is primarily due to the unwavering persistence of sisters who, all year, have used social media to empower and amplify the voices of women of color against all systems of oppression.
Whether the threat comes from the state or within our own communities, black women on social media have refused to allow racism to be the blanket under which sexism and misogyny hide.