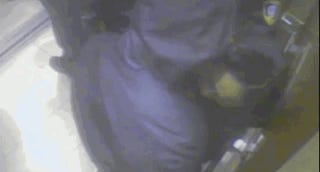 New video footage of NFL free agent Ray Rice in the aftermath of the infamous February assault against his then-fiancee, Janay Palmer, surfaced Saturday in the news.
Security-camera footage released exclusively by ABC News shows Palmer shortly after the assault as she is questioned by police in the lobby of an Atlantic City, N.J., casino where the incident occurred. A moment later Rice, who is held in police handcuffs, joins Palmer, who is also handcuffed. Both are led into an elevator, where the couple appears to kiss before they are separated in two police cars.
Aggravated assault charges were dropped against Rice after he entered a pretrial intervention program for domestic abuse. The star running back is currently challenging a decision by the Baltimore Ravens to terminate his contract after footage of the devastating elevator assault was leaked online. He is seeking $3.52 million for the season.
Read more at ABC News.