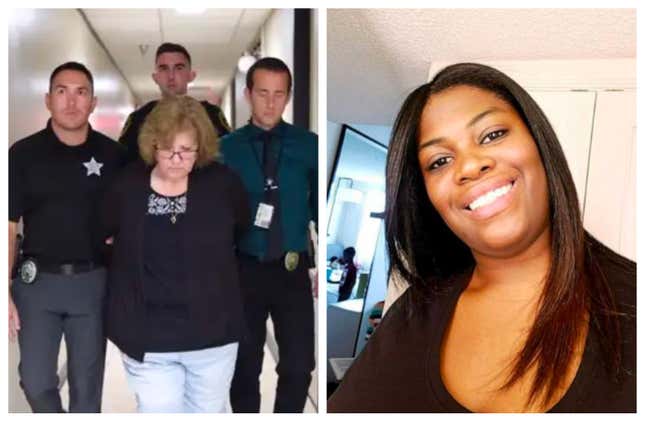 The Marion County Sheriff's Office released body camera footage of the police responding to complaints made by Susan Lorincz, the white woman who fatally shot a Black mother of four, Ajike Owens. According to ABC News, the videos include a child accusing her of being racist.

Small Town Horror Story: The "Suicide" of Sandra Bland
When the residents of Ocala, Fl. called out Lorincz for her Karen level of carrying on, we didn't need much more convincing that she wreaked havoc on her neighbors. However, video evidence is always a nice addition to back up the accusations. The report says Lorincz called the police many times to complain about the kids in her neighborhood. In one of the videos from last February, both Lorincz and Owens speak to deputies regarding Owen's kids simply walking a dog. Another video included a complaint against a completely different neighbor.
Many neighbors, including witnesses to the shooting the night of June 6, told local reporters Lorincz never let up on calling 911 or resorting to her own devices of torment to scare their children away by either speeding around in her truck or yelling at them, per NBC Miami.
Though, if you let her tell it, she was "peaceful and quiet" and "the perfect neighbor you barely see," as she described herself to the officers in multiple videos.
Read more about the footage from ABC News:
The most recent incident captured in the footage took place on April 25. Videos from that day show Lorincz and Owens each speaking to sheriff's deputies after Lorincz alleged that Owens threw a sign at her.

"I called because the woman across the street hit me with a sign," Lorincz said in the video.

Owens admitted in the video to removing the "private property" sign and throwing it.

"I literally went and picked the sign up and as I walked off I threw the sign. I said I can go and buy a sign too, it still doesn't mean anything," Owens told police.

An unidentified neighbor told police that the sign didn't hit Lorincz. "All she did was tell the lady to stop yelling at her kids. That lady yells at everybody's kids out here," the neighbor said.
After months of Lorincz playing neighborhood vigilante, she fatally shot Owens after she approached Lorincz's front door to discuss harassment complaints from her children. Owens' 9-year-old son said Lorincz threw various items at him and his sister and called them racial slurs.
Lorincz was charged with first-degree manslaughter, culpable negligence, battery and two counts of assault. She was released from jail on $154,000 bond and ordered by a judge to wear an ankle monitor. Her arraignment is July 1.