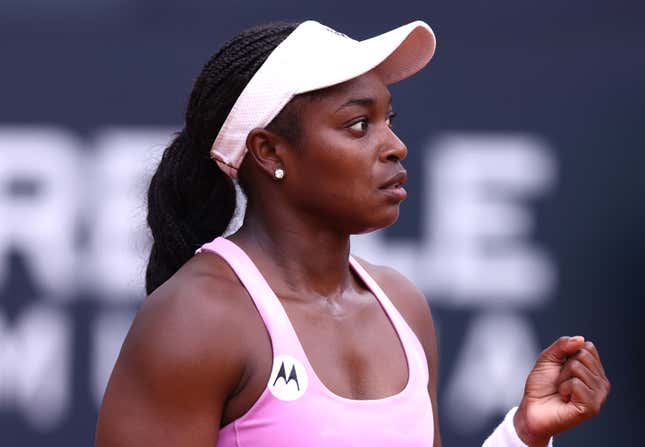 As the best tennis players in the world head to Paris for the French Open—the second Grand Slam of the year—Black stars are ready to show out on the clay. Frances Tiafoe; Sloane Stephens; Madison Keys; and Coco Gauff all began the tournament with impressive first round wins. Traditionally, clay is not a surface that American players excel on since it's not something that they regularly practice on. However, they all played confident opening matches. Gauff and Keys needed three sets, but they still looked extremely strong in victory.

Tackling A Black Maternal Health Crisis & Embracing Reproductive Justice | The Root Institute
Despite the lasting influence of Serena and Venus Williams, tennis is still a very white sport. Following her decisive 6-0, 6-4 win over Karolina Pliskova, Stephens—a 2018 French Open finalist—revealed that online racist abuse remains a constant part of her life.
"It has never stopped. If anything, it's only gotten worse," Stephens said after the match.
Ahead of the event's launch, tournament organizers at Roland Garros announced that players can use an artificial intelligence anti-online harassment and hate speech tool to help them with their social media accounts. Any Black person who's spent time on social media can tell you that all the blocked words and phrases in the world still can't keep racist trolls off your timeline. If horrible people want to send you hurtful, offensive messages, they will figure out a way to do it.
"I did hear about the software. I have not used it," the 2017 US Open champion said. "I have a lot of obviously key words banned on Instagram and all of these things, but that doesn't stop someone from just typing in an asterisk or typing it in a different way, which obviously software most of the time doesn't catch."
This move is particularly interesting from Roland Garros, as they were the ones who were ready to suspend Naomi Osaka in 2021 when she wanted to skip post-match press conferences to protect her mental health. At the time, the institution was up in arms that she would suggest changing such a long-held tradition, but now they're trying to protect players from online abuse. "It's great for the mental well-being of the players," said tournament director Amelie Mauresmo. "It clears the mind and will help everyone have a little more freedom on the court. I can't wait to see how the players react to it." I'm still wondering where their concern was when a Black woman was trying to find some semblance of peace while she competed at the highest level.
"I think that, like I said, it's only continued to get worse and people online have the free rein to say and do whatever they want behind fake pages, which is obviously very troublesome," Stephens said. "But yeah, it's something I have had to deal with my whole career and something I will continue to deal with, I'm sure. That's that."
Unfortunately, for Black players in traditionally white sports, there are always going to be gatekeepers who can't handle a more diverse, inclusive competition. All these amazing athletes can do is go on the court, shine under the brightest lights, in the biggest spotlights and let the haters cry themselves to sleep at night.
The 2023 French Open airs through June 11 on Tennis Channel.