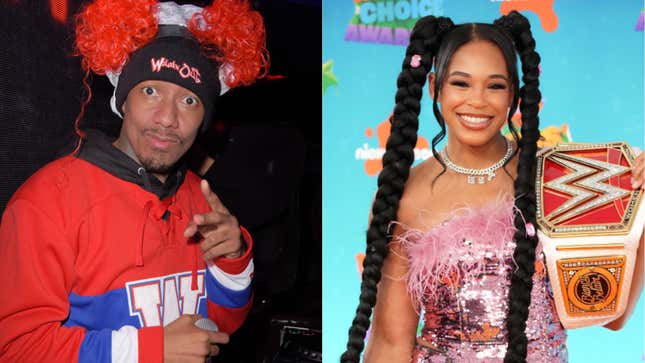 I know it's become a running joke for Nick Cannon to talk about how he cares for his 12 kids and other women he considers getting pregnant. But, his joke on the latest episode of Wild 'N Out had people on Black Twitter heated.
Real Housewives' Gizelle Bryant & Robyn Dixon Talk Success Of Reasonably Shady
If you're unaware, during last Thursday's episode on the comedy rap battle show, Cannon was performing a spoof of the Fresh Prince of Bel-Air theme song. Two of the guests on the show were Bianca Belair, and her husband, Montex Ford, who are both WWE stars.
While he was performing, he rapped, "There's a couple of guys who were up to no good. Yo, they started making trouble in my neighborhood. I get in one little fight and my mom got scared because I wanted to impregnate Bianca Belair."
Whew. I know Wild 'N Out is a comedy show, but there's almost no way in hell I'd be cool with someone saying that about my woman, let alone right in front of my face. It's also crazy that Cannon would say that about Belair considering both she and her husband could break him in half if they wanted to.

Black Twitter's Reaction

To no surprise, people on Black Twitter had a myriad of reactions. Many were disgusted with Cannon's "joke," disparaging the entertainer for saying the line in front of Belair and her husband.
On the other hand, some were defending Cannon, saying that people who watch the show should expect jokes like the one he made toward Belair.
In any case, it seems to have caused some controversy among watchers of the show, though I understand and respect Belair and Ford being good sports about it on the show. Then again, Nick's comments are mild compared to other stuff he has said on Wild 'N Out.