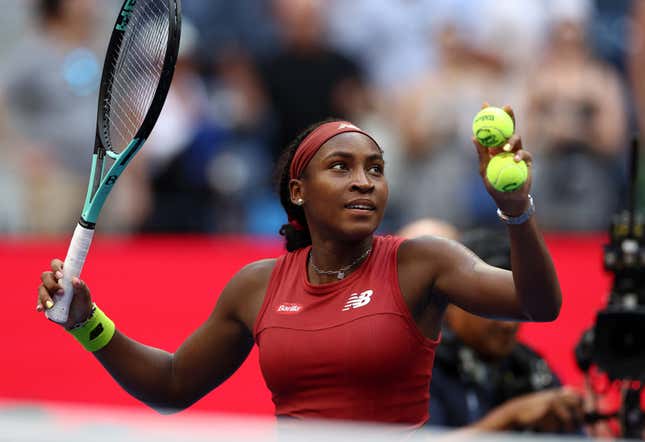 If you thought Serena and Venus Williams' influence on American tennis was done, you were wrong. Look no further than the 2023 US Open to see how Black players are not only thriving, but taking over the sport. For the first time in the sport's open era—which began in 1968 when both professionals and amateurs could compete in Grand Slams—four Black American players have made it to the quarterfinals of the New York based major championship.

Courtney B. Vance in Heist 88 Is Our Black TV Pick of the Week
Coco Gauff
Coming into the Grand Slam with wins at hard court tournaments in Washington DC and Cincinnati, Coco Gauff was a favorite to win the US Open. Those odds took a huge jump when she reached the quarterfinals and her presumptive opponent, world No. 1 Iga Świątek, was upset in the fourth round. Now, all eyes are on the 19-year-old phenom as she looks to win her first major title. In the quarterfinals she faces 2017 French Open champion Jelena Ostapenko, a big hitter whose game tends to go up and down. Sometimes she plays like a major winner and others she can barely keep the ball in bounds. There's really no telling which version Gauff will end up playing.
"She's a ball-striker," Gauff said in a post-match interview. "I lost to her in the Australian Open this year. She's hot or cold, to be honest."
The two open Arthur Ashe Stadium on Tuesday afternoon, so the heat is expected to be a huge factor in the match. This favors Coco, as she lives and trains in Florida, which makes her very comfortable with the heat. If she keeps winning, Gauff could find herself in a finals match up against fellow American Madison Keys.
Madison Keys
After battling through injuries, as well as an up and down season, 2017 US Open finalist Keys is back in the title picture. On Monday, she picked up a big win over the top American woman, Jessica Pegula. Keys was dominant in a 6-1, 6-3 victory that set up a quarterfinal match against 2023 Wimbledon champion Markéta Vondroušová.
As if that's not enough representation, two Black men will face off in the quarterfinals.
Frances Tiafoe vs Ben Shelton
In the men's draw, 2022 US Open semifinalist Frances Tiafoe and dynamic young star Ben Shelton will face off Tuesday night in a highly anticipated primetime match up. No. 10 seed Tiafoe is the higher ranked player and has more Grand Slam experience, so he's the favorite. However, in his first full year on the pro tour, Shelton has been a revelation, notching wins over top seeds and quickly moving up the ranks. The two are great friends and this will be their first match on the ATP tour, so it should be an extremely entertaining contest.
"Ben has wanted to play me at the Open for a long time," Tiafoe said in his post-match press conference on Sunday. "So he's going to be super excited. He's going to come out with a lot of energy. I'm just going to have to tame him down, try to be the vet and get the win. It's going to be good. It's going to be a great atmosphere, I think great representation for people of color, right? Two people of color playing in the quarterfinals, huge match on Arthur Ashe. It's a pretty monumental moment. I'm pretty excited to compete against him. Hopefully it's a great battle."
Adding to the tournament's Black Excellence theme, Shelton, with partner Taylor Townsend, has also made it to the semifinals of the mixed doubles, and Gauff is in the quarterfinals of the women's doubles alongside her partner, Pegula.
The 2023 US Open is airing live on ESPN Networks.